Happy Tuesday Tablo family!
A new Tablo firmware update is coming your way. There are no huge features included in this update, but it does have many bug fixes and stability-focused improvements.
Like all Tablo firmware updates, this is being distributed in a staged rollout over the next couple of weeks. A small number of customers will receive the update today, with more added to the rollout every weekday.
All Tablo DVR units are now eligible for the 2.2.28 update and should receive an update prompt within the next 4 hours. If you'd like to update immediately, quickly press the blue reset button on the back of your Tablo.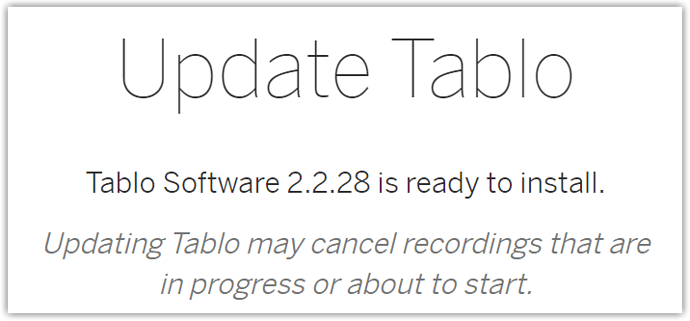 When your DVR is eligible for the update, a notification will pop up in most Tablo apps.
Here's what you can expect…


---
Tablo Firmware Release 2.2.28
• Video streaming improvements for Tablo Connect
• Improvements for Automatic Commercial Skip retry
• Fix for playback of very long recordings on Roku
• Many other reliability and performance enhancements
NOTE: Post-upgrade database processes (if needed) may take several minutes to complete. During this time the LED will be blinking. Do not power down the Tablo until the LED is solid again.
---
A few additional details…
This firmware adds support for the GENRES filter to the newer back-end communication method that Tablo's apps on Roku, Apple TV, and Tablo Preview (for Fire TV & Android TV) use.
Roku users can enjoy GENRES as soon as they update to 2.2.28 and users of the other apps mentioned can expect to see this feature added in upcoming app updates.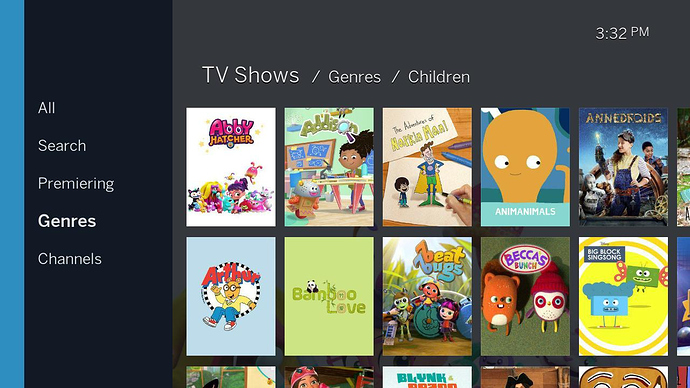 There are also a number of smaller enhancements that will improve performance for those who have channels with marginal or problematic reception, tweaks to the algorithm behind what is marked watched, and MUCH more.
For tips and tricks on successful firmware updates head over to the Knowledge Base.
If you have any feedback or questions about this release, please post them below.
If you need support assistance, place a ticket and we'll be in touch soon.