Happy Tuesday folks -
It's a big day here at Tablo HQ!
As of today, the app known as Tablo PREVIEW for Amazon Fire TV and Android TV has become the new default Tablo app (version 2.0.0) for these platforms.
As we've worked to complete this new app interface, many Tablo OTA DVR customers have already been enjoying using this codebase under the Tablo PREVIEW name. Now that the app has reached feature parity with our original Tablo app (with some help from another recent update), we felt it was time to make the switch.
Along with all of your favorite Tablo features (and a few new ones) here's what you can expect…
---
Tablo Fire TV & Android TV App (v. 2.0.0 - AKA Un-PREVIEW)
All-new native application as Tablo PREVIEW transitions to default Tablo app
Preserves existing pairing data from original Tablo app to enable Tablo Connect
Bug fixes and performance improvements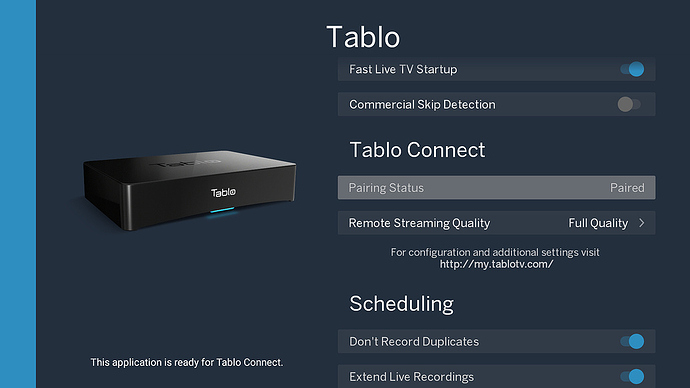 (You can check pairing status and remote streaming quality for Tablo Connect within the SETTINGS screen of the new app.)
---
HOW TO GET THE UPDATED APP
Tablo customers who've been using the original Tablo app and who have automatic updates enabled on their Amazon Fire TV or Android TV devices don't need to take any action to enjoy this new app. Version 2.0.0 is available now on Android TV and Amazon Fire TV.
If you've been using Tablo PREVIEW exclusively, you will need to look for, and download, the Tablo app from the Amazon app store or the Google Play Store. (Canadian users may need to search for NUVYYO instead of Tablo .)
We urge you to make the switch now as the current Tablo PREVIEW app will not support Tablo Connect, will no longer get updates, and will eventually be removed from the app stores.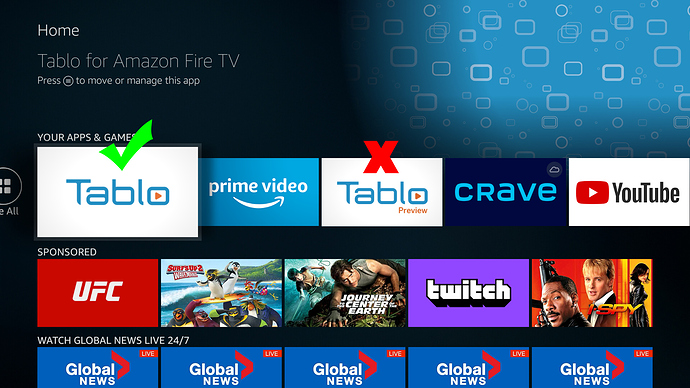 ADDITIONAL DETAILS
You can read more about this change, about the new conflict resolution engine introduced in the last Tablo PREVIEW update, and much more on the Tablo blog:
As always, if you have any questions or concerns about this update, don't hesitate to leave a comment below or touch base directly with Tablo Support.