Hi there Tablo family!
A new Tablo firmware update is on the way for network-connected Tablo DVRs . (This excludes the Tablo DUAL HDMI and Tablo QUAD HDMI).
Like all Tablo firmware updates, this is being distributed in a staged rollout over the next few weeks. A small number of customers will receive the update today, with more added to the rollout every weekday. All network-connected Tablo DVRs are now eligible to update to 2.2.36.
When your DVR is eligible for the update, a notification will pop up within most Tablo apps and will look like this: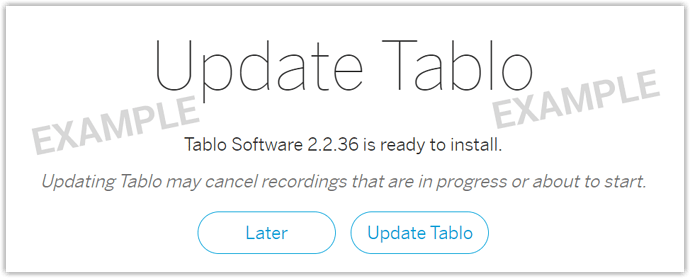 Here's what you can expect:
---
Release Notes for Firmware 2.2.36
• [NEW] Adds support for updated Apple TV app (please reboot your Apple TV after the firmware update)
• Fix for cover art aspect ratio issue
• Additional improvements to TV Guide Data service for missing guide data
• Other reliability and performance enhancements
NOTE: Post-upgrade database processes (if needed) may take several minutes to complete. During this time the LED will be blinking. Do not power down the Tablo until the LED is solid again.
---
What You Should Know About This Release
The fix for incorrect cover art will not be immediate. Brand new shows added to the guide after this update should have the correct aspect ratio for cover art. Art for existing programs in your guide will be renewed over the coming months.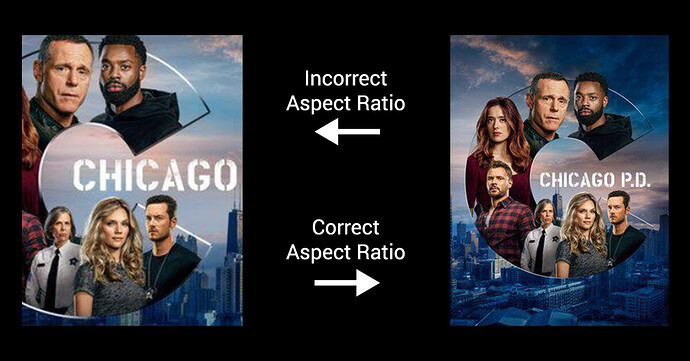 As for the guide data fix, if you do see incorrect or missing guide data on one of your channels, run a fresh channel scan and save that scan by selecting ADD TO GUIDE after processing the firmware update. If your incorrect or missing data problem persists the day after you perform this process, please let us know.
For tips and tricks on successful firmware updates head over to the Knowledge Base.
Have trouble connecting to your Tablo after the update? Use these troubleshooting tips.
Otherwise, if you have any feedback or questions about this release, please post them below.
If you need support assistance, place a ticket and we'll be in touch soon.