Where can I download the new version with date & time?
That version no longer exists. What are you hoping to do with date/time?
@CycleJ thanks for the help. everything is copying and not copying correctly now!!
Decided to start fresh with the new version of Tablo Ripper. Deleted the .XML files and setup Tablo interface new. While I was at it, I reviewed MCEBuddy and found that I can convert up to 8 titles concurrently, so I set it up for 8. Figured why not use some of the horsepower in my 5GHz editing system. Started the ripping process in background for full time ripping on all content. Started MCEBuddy and waited about 1 or 2 minutes for the feed to reach MCEBuddy. Once they started coming in, I watched as the concurrent conversions started one, then two, the three… Running all 8 concurrently every once in a while, but most of the time 6 or so. Looked over to my PLEX server and watched as the finished titles started creating their folders and putting content within them. I gotta tell you this is really slick AND fast!
Take a look.
Great Job CycleJ!
-Rodger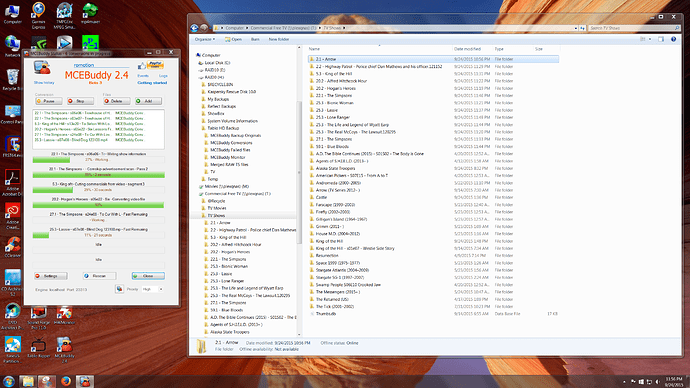 Quick update, then off to bed. This process has been running now for right at 1 hour. The picture above was taken just about 1/2 hour after the process started. It's after 12:30 AM and doing a quick tally I have Ripped, comskipped, converted and transferred to my PLEX Qnap server 25 hours of content! Having worked with video for over 25 years now, I can tell you this is ultra-fast for all it is doing. I'm not taking credit here (well I did custom build my editing system to my own specs, so maybe just a bit), but just pointing out how well all of this process is working thanks to CycleJ and his development of Tablo Ripper and of course to MCEBuddy and Comskip as well. This is indeed a new era for fast content creation and serving. Well, off to bed.
-Rodger
I just wanted the date and time to make it easier to distinguish tv episodes that I have not yet ripped without concerning myself with the episode title. The date would enable me to accomplish this much easier
@marjamar
Thank you for posting your results. This is exactly why I created TabloRipper. It's the missing link that connects our Tablo with some terrific/existing technology.

@marjamar Do you have any advice for setting up Comskip in MCEBuddy? I tried using it with just defaults and the first thing it did was chop off about the first minute of Minority Report. I poked around the MCE website support area and did some reading up on tuning Comskip, and there are some custom .ini files that people have contributed. I was thinking I would just download the .ini for the US and try it out, otherwise I would go through the tuning process which is pretty lengthy. Thought it would be nice not to re-invent the wheel if you have some settings that are working well.
Thanks to all the contributors, this is a pretty cool way of setting up in-house entertainment!
I am using the standard comskip.ini provided with my donator version of Comskip. The major network series seem to cut commercials pretty well. Most of the problem I have seen is with lower quality content and local station broadcast quality issues. Also, for some reason or another this paid subscription guide often has wrong program content specified and wrong times. It is a regular occurrence to see an extra 5 to 15 minutes of run-on recording after the scheduled show is over. Either that, or Tablo does not know when it is suppose to stop recording. As to tuning the comskip.ini file, I have read about it a few times, but it seems overly time consuming to tune numbers of these ini files, one for each station for sure, and maybe even one for each series. Even if someone took the time to do this, you would still have to assign a particular ini file for each batch of conversion you wish to do. I don't have a clear or concise methodology for this, except to hand cut certain content I want done perfectly.
The extra recording time with Tablo is actually a feature… it starts recording (I think) about 15 seconds before the show is scheduled to start, and normally stops recording about 5 minutes after the show is scheduled to end. With live shows, it tacks on a lot more time, a nice to have thing in case the show runs over. I think some live shows I had scheduled to record that lasted 1 1/2 hours ended up being 2 hours and 5 minutes long as captured by Tablo.
I think all of the extended recording features are related to live TV broadcasts only. I could be wrong with this new update, but I doubt it. I guess I have not read anywhere about it anyways.
-Rodger
I can't be certain, but I think I've seen series finales extended as well, whether live or not.
finales are extended by 50% if there is an available tuner
When trying to install, I get "This installation package is not supported by this processor type"
I am running W7 Pro on an i5.
Any ideas why I get this error?
The standard version of TabloRipper is 64-bit. Sounds like you're running Win7 32-bit. I did build a 32-bit version for someone else. But before I repost it, do you have a 64-bit PC you can use instead?
That is in fact the case. I tried on another PC that is 64 Bit and it does work, however that is not one I will have access to. If there is anyway I can get a 32 bit version, that would be very helpful, otherwise I will have very limited access.
Thanks,
-C
Very much appreciated!!! Thank you!!
-C
@craigalan
Ok, please take a look in the "experimental" subfolder in the download link. I don't have a 32-bit PC I can use for testing, so please let me know if you have difficulties installing.
@glucono1
Could you send me an example of what you'd like the filename to look like?
Thanks I got it. Will try this later tonight or tomorrow.