Hi folks -
Today we're updating the Tablo apps for Windows 10 and Xbox. If you're confused about why we're suddenly updating unsupported legacy apps, there is a reason!
Keep reading to learn why…
First, Some History
For those of you who aren't long-time Tablo users, at one time we fully supported and maintained Tablo apps for Windows 10 and Xbox.
Unfortunately the codebase for these apps became quite difficult to maintain and our focus slowly shifted to more popular platforms (like Roku, Fire TV, Android TV, & Apple TV).
The Windows 10 and Xbox apps were last updated in early 2019 and official support ended in late 2020.
Why the Update Now?
This app update is the first step in a full refresh of the Tablo app for PCs which is currently slated to launch later this fall.
In the coming months, support for our current web-based app at my.tablotv.com will end and when it's ready, the Windows 10 desktop app will be updated with the brand new Tablo app code base.
By switching to a downloadable desktop app format, in the future we can create some new and innovative features that are not possible with the latest browser-based technology.
This is why we encourage you to download and switch to the Windows 10 app ASAP. This will ensure you can continue to access your Tablo on your PC throughout this transition, that your DVR is paired with this new app for Tablo Connect before support for my.tablotv.com ends, and that you continue to receive app updates as we move forward.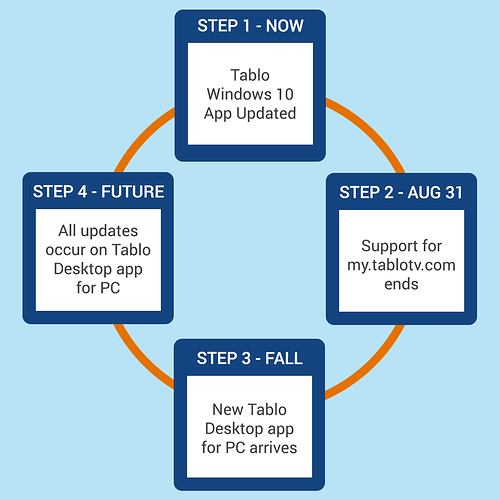 What's Next for Xbox?
This is still the end of the road for the Tablo app on Xbox. We hope the small number of regular users of this platform will appreciate this last update with bug fixes and additional features but the small and shrinking userbase means it doesn't make sense to maintain this app moving forward.
How Do I Get the Tablo Windows 10 App?
If you have a PC running Windows 10 you can visit the Microsoft store and download the Tablo app for free:
What If I Use a MAC Computer?
Users of MAC computers can continue to access the Tablo app at my.tablotv.com via the Safari browser for the time being.
Here's what you can expect from today's update:
---
Tablo Windows 10/Xbox App Update (v. 1.9.9)
Adds Automatic Commercial Skip (functionality only, no success/error messages)
Adds Tablo Connect (Windows 10 only)
Adds 5.1 Surround Sound
Many other bug fixes and performance improvements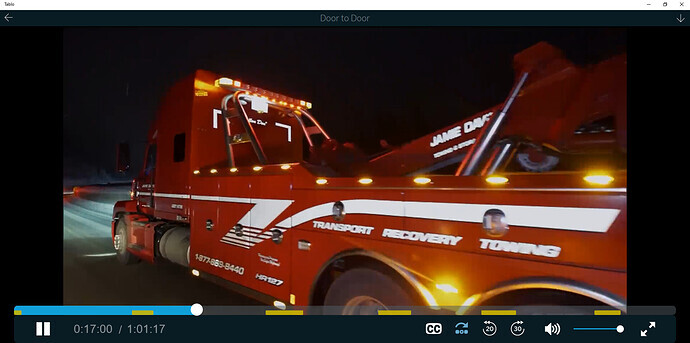 ---
Aside from the addition of Surround Sound, this app should function just like the web based app at my.tablotv.com does right now on Chrome.
We hope you enjoy using it and look forward to sharing the fully refreshed Tablo app for PC with you later this fall!
If you have any questions or concerns, please let us know below or don't hesitate to drop a note to the support team.
Note: The new app versions may take up to 24-hours to propagate on the app stores. Be patient, they will appear for everyone within the next day or so.