Hi folks -
If you are still using the TabloALT channel on Roku it's time to switch back to the main, public Tablo channel:
How Can I Tell Which App I'm Using?
To verify if you're using the correct Tablo app to access content on your Roku streaming device, streaming stick, Smart TV, or soundbar, look closely at the Tablo Channel icon on your screen.
It should only show the Tablo logo and not have the word ALT below.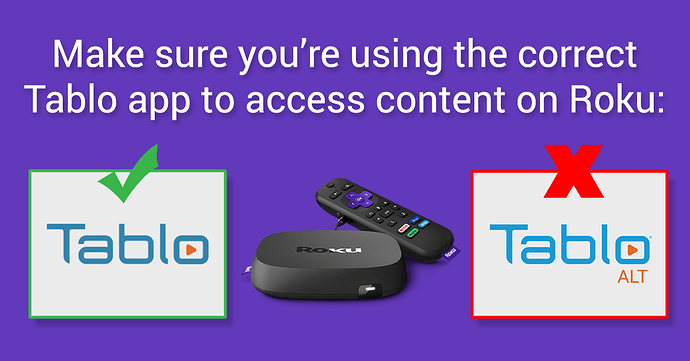 Why Do I Need to Switch Back?
Last October when Roku's 10.5 update began rolling out, a subset of Tablo customers found compatibility issues between the new Roku OS and the public Tablo Roku Channel.
At that time, we rolled out a private channel called TabloALT for Roku as a temporary workaround:
Roku has long since resolved the issues with OS 10.5 and there are no current problems when using the public Tablo Channel for Roku.
Additionally, Roku is removing ALL private channels from its platform as of February 23rd, 2022.
After that date you will no longer be able to access your Tablo via the TabloALT channel. As always, you can continue to access your Tablo via the public Roku channel:
If you have any questions about this, please post them below.