Happy Thursday Tablo fans!
Some of you have already noticed a new update to the Tablo Channel on Roku.
This includes a feature that many of you have been waiting for - an on-screen guide overlay for Live TV that we call 'Quick Channel Select'. This feature also includes a 'Last Channel' option to make switching between two programs easy.
How It Works
To bring up the 'Quick Channel Select' overlay, just hit the UP or DOWN button on your Roku remote during playback of Live TV.
'Last Channel' will appear as an option once you have tuned to two different channels. To return to the previously viewed channel, simply call up the 'Quick Channel Select' overlay by hitting the UP or DOWN button, and then hit the LEFT button on your Roku remote's D-PAD.
How To Get It
Your Roku will auto-update within the coming day or so, but you can force an update by going to your Roku's home screen then navigating to SETTINGS > SYSTEM > SYSTEM UPDATE.
Here's what you can expect:
_______________________
Tablo Roku 2.7.0
Adds 'Quick Channel Select' feature to Live TV playback screens
NOTE - This build also increases the minimum supported Roku firmware to 8.0.0
NOTE - Quick Channel Select is NOT available on Roku devices running in SD mode, or very old Roku models which do not support hardware acceleration required for this feature.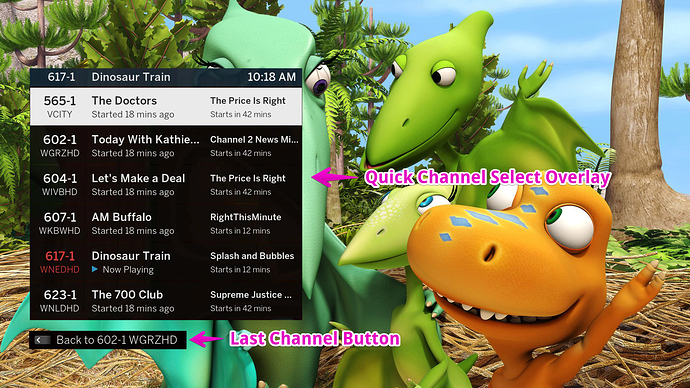 ---
We hope you enjoy this update!
If you have any questions or concerns, don't hesitate to drop us a line or comment below.
If your primary Tablo device isn't Roku, don't worry! This same feature is coming to Apple TV, Amazon Fire TV, and Android TV devices soon!