Hi there Tablo fans -
A Tablo app update is now available for those who use Amazon Fire TV or Android TV devices. This update includes a few bug fixes and some overall improvements.
If you have automatic updates enabled on your streaming device or Smart TV, you should see the update in the coming days.
REMINDER - Everyone should be using the app called Tablo (and not Tablo PREVIEW). All new active development is being done on the main Tablo app and Tablo PREVIEW has now been removed from the app store.
Here's what you can expect:
---
Tablo Amazon Fire TV/Android TV App Update (v. 2.2.0)
Removed Live TV grid toggle in settings (14-day grid is now the only view)
Fixed issue where unscheduling a manual program from the show details screen could cause a crash
Improved connectivity to prevent loading errors during initial launch of the app
Additional performance improvements and bug fixes
NOTE - This also increases the minimum required Tablo firmware version to 2.2.38.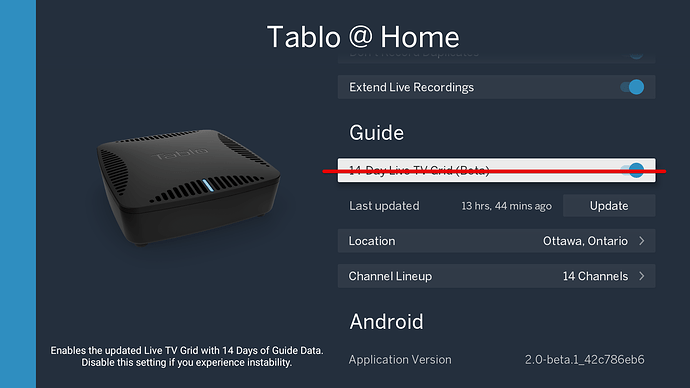 ---
Tablo Amazon Fire TV/Android TV App Update (v. 2.2.1)
Fix for issue where using the Quick Channel Select menu would subsequently cause navigation/input problems
---
About This Release
This release should be much more stable thanks to the overall performance improvements.
One of the other major changes is the removal of the toggle that allowed users to switch between the 14-day Live TV Grid and the 24 hour grid.
We have determined the 24 hour grid had been causing a number of problems so we have eliminated it in favor of the newer 14-day grid.
Customers without an active TV Guide Data Service subscription will still only see 24 hours of data in the Live TV grid, but the interface behind it will be using this newer implementation.
If you have any questions or encounter any problems, feel free to post them below or touch base directly with support.