What is your model number?
Any idea when the Pause button will work on live TV? I've been using the app for a little while now and would love this feature. It might let me fully cut the cord with my cable company.
The app loads just fine on my 65" Samsung tv. The app starts just fine taking me to any of the sub parts of the app. I start say a recorded movie and the TV totally locks up. I have to restart the TV to get out of it.
The Tizen app plays most of my recordings, but for one or two series of recordings it just sits for a long time, then returns "Player Error Could not play recording: Network connection failed." All my Rokus play that series with no problem. I've found it to be annoying enough that I went back to using the Roku on that TV, hoping the Tizen app will improve at some point.
Thanks for the heads-up @Steve_Fensler & @StuTomato I'll pass this along to the team.
Are you both using 2.2.18 Tablo firmware?
Yes, I'm running 2.2.18 on Tablo; the Tizen app reports V2.4.0
For the most part, the Tizen app works well. It doesn't seem to handle series that have lots of recordings well, though. As I'd noted in Samsung Smart TV App?, an example is if I go into my Big Bang Theory recordings
which has 11 Seasons / 253 episodes recorded
it initially reports 2 seasons (10 and 11) / 46 episodes
if I exit back out to the main recordings level and come back in (sometimes more than once) all 11 seasons and associated episodes appear
– side note- it's really tedious on the Tizen app to scroll through all of the episodes across multiple seasons and I've not found a way in this app to jump season-to-season like one can do with Roku
I just did a little more testing and it seems the Tizen app will successfully play episodes from seasons 10 and 11 but not from the older seasons, so those two behaviors might be related
Other notes
– all apps play successfully on the Roku app and all seasons show up right away in the Roku app
– the same 2 seasons / 46 episode display occurs in the Windows 10 app, but that app is able to play all of the episodes
– this behavior is not limited to this one series. I have checked 3 shows that have multiple seasons and they all exhibit the error of not initially showing all of the older seasons. One of those additional shows also won't play episodes from the older seasons on Tizen, but the 3rd show will play episodes from the older seasons (frustratingly not totally consistent)
Thanks for the details @StuTomato. That'll be super helpful info for the team to have.
What happens if you go into the Big Bang folder on the TIZEN app and let it sit for a few minutes… Will all of the seasons appear eventually? Or does it always require jumping back and forth?
Sounds like there's something funky happening when the app is syncing with your Tablo.
Roku doesn't use sync - it calls information on demand. The TIZEN app works a bit differently so that's probably the root of the problem.
One other thing to try is to delete the app and re-load it. This will force a fresh sync.
Once you've tried that, if it's still behaving the same we'd like to pull some logs from your Tablo.
I just turned the TV off, then on, then restarted the Tizen Tablo app and entered the Big Bang recordings. It showed only seasons 10 and 11. I left it there for 13 minutes and the additional seasons never showed up.
I then deleted the Tizen Tablo app and reinstalled it. After starting the app and entering Big Bang, I got the same listing of just seasons 10 and 11. I did not wait an extended period this time. I exited to the main recordings screen and re-entered. All seasons appeared. I located one episode in season 7 that did begin playback, but the overwhelming majority of episodes older than season 10 (I've checked around 10) result in the timeout message.
@StuTomato Thanks for trying that!
Can you drop a note to our support team and reference this thread so we can pull the logs from your Tablo? www.tablotv.com/ask-tablo
I'll tell them to keep an eye out for your email.
My Tablo app on my Samsung TV does not show a tab for Prime Time. This tab is available on Windows PC, and Android smartphone. Will it be added to the Tizen app?
I've tried uninstalling and reinstalling several times but It still locks up. The lockup is so bad I have to turn the tv off to get back into anything. I'm using 1.9 out of 4GBs of internal memory. Could this be the problem?
This could be the problem; if you decrease the storage you're using, do you get better performance? If this doesn't help, send our team a note and we can take a look.
Hey folks - The app has now been approved for most 2018 model groups: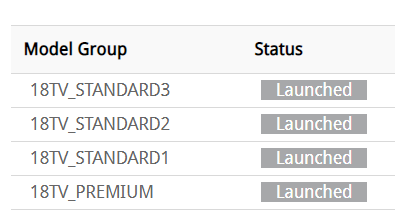 Note that this is still only for US-based televisions and since the app process for Samsung TVs is still quite mysterious, it's not clear if the app will be available immediately or will require a day or so to propagate.
Keep an eyeball out for the Tablo app if you have a brand-new Samsung TIZEN TV!
More on how to find the Tablo app on your Smart TV here:
And Samsung is about to lose another customer (seriously). I've been looking at the big 65 and 70 inch TVs all summer thinking it is high time I upgraded. Samsung's Tizen line is one of the few "smart" TVs that I would consider in Canada. But lack of Tablo app support is even more important to me than CraveTV.
Since I'm stuck with my Roku or switching to AppleTV, where can I find a high-end dumb TV in the 60 to 70 inch range in Canada?
Last week my ten year old Samsung died. It would have cost $300 to repair it. Instead I bought the LG 65UK6300PUE (65") smart TV. The TV tuner is outstanding! The best I've ever seen. It brought in 40 stations whereas all my other TVs, tuners and DVRs get 28. In my experience this LG tuner is the best period. I love WebOS and the Tablo app is reliable under WebOS 3.5. It also has Netflix and Amazon Prime. Now the only reason I need my Roku is for the Britbox and Acorn apps. The LG was on sale for $804 on Amazon (and since I have Amazon Prime no shipping charges).
BTW I don't think I can ever go back to a dumb TV. My wife and I have gotten used to the smart TV functionality. The TV guide is very good using the data provided in the OTA channel streams and is useful for switching and reminder\notifications. While surfing the guide, the channel shows in a background window

I'm assuming the LG goes out on the Internet to get supplementary info for the OTA guide since it shows posters and data for a show the OTA program stream does not normally carry. Depending on what data a station sends, the LG guide is a 24 to 48 hour grid. Clicking on an entry shows the artwork and additional info. This is an interesting way to develop a free guide…

My only regret: this TV can get channels the Tablo cannot and thus can't be recorded

I also did not get the LG Magic remote that integrates with Amazon Alexa and Google Home which I may do so in the future.
Tablo, will this app be available soon for us Canadian? Is there at least a chance will have it?
Just bought a samsung and it would be nice to have it.
Thanks
Unfortunately it's unlikely. Samsung breaks down their app store between US & THE REST OF THE WORLD and the rules for apps in 'the rest of the world' are too onerous for us to be able to release it on that side of the fence.

One of the many 'fun' things about dealing with non-standard app stores.

Thanks for letting us know. I had been considering getting a new Samsung Tizen TV. Now I know not to buy another Samsung.
They make TVs with great picture quality, but if you want your streaming stuff integrated into the television it's best to go with a set that runs Roku or Amazon Fire TV.