Happy Monday folks!
Hope you're all keeping well.
Last night the team completed the second major update of the Automatic Commercial Skip server.
Because the algorithms and machine learning live in the cloud, no firmware or app updates are required on your end.
Overall detection has improved for airings recorded today and moving forward, but you can also expect improvements around:
Detection of 'end of program' content – Previously, the final segment in a program or previews for upcoming episodes were sometimes misidentified as commercials due to similarities with ad breaks. Now 'end of program' content will receive a secondary review to help ensure ads are properly flagged. ( NOTE - Once the final video segment is over, all remaining video within the recording will not be skipped. )

Detection on recordings with mild broadcast errors – Previously, some recordings with mild broadcast errors due to OTA TV reception problems could cause Commercial Skip detection to fail. Handling of these errors has improved so more recordings can be processed successfully despite these blips.

Detection of 'sandwiched' content – Broadcasters sometimes place short bits of content between two ads to keep consumers from fast-forwarding. Additional work has been done to preserve program content while eliminating the ad segments on both ends.

Customized detection for popular programs – We have created program-specific algorithms for many popular shows including Jeopardy, Big Bang Theory, and daytime soap operas to ensure even more accurate ad detection.

Unique program/commercial formats – Previously, some programs were ineligible for Automatic Commercial Skip processing as the format of the show or the commercial slots were particularly unusual. Thanks to additional tuning of the algorithms, we have now reduced the number of filtered programs by 80%.
A significant part of the work in this update also focused on tuning the Automatic Commercial Skip algorithms to successfully process local and national news, as well as newsmagazines!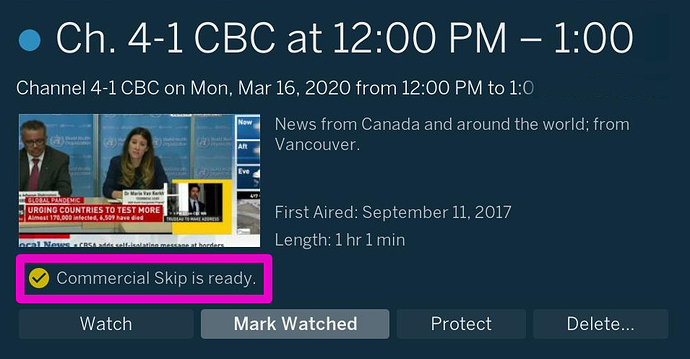 You can read more about this update on the Tablo blog:
Additional tweaks and improvements are still planned for the coming months.
If you have any questions about this update or this feature, leave a comment below or drop a note to directly to Tablo Support.