The Harmony 650 Universal Remote is pretty amazing. I'd had a Harmony 200 laying around in a drawer for several years & recently pulled it out to config for my Toshiba Fire Edition TV (works GREAT).
I have two boxes that are of some concern, as they're not identifiable by any of the generic appliance terms (TV, DVD, etc.): (1) Channel Master Stream+ and (2) AIRTV Player from Sling.
Setup was easy, both boxes are in the (vast) Logitech repositories and identified instantly when typed in. Selected, synced and done. I then tested and ran through the functions, everything worked on both the Stream + and the AirTV Player.
While at it, I added one of my TVs, a Sound Bar and a 4K Blu-ray player. What I've learned from this: Harmony 650 Remote doesn't rely on input codes, manual or "learned" programming methods or Category of appliance. You simply plug it into your computer, enter the device's Model number, click OK and Sync. This may not seem like a big deal to many people, but if you have an item that's not configurable to a conventional remote, this will save your life (and device).
…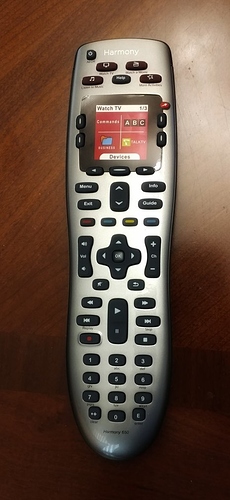 …
Photograph is actual size of the remote. Logitech has this at $79 on their site, it can be found elsewhere for less (Amazon, Walmart, etc.)
…