I believe it has to do with network discovery and design technologies.
On my Sony TV using the very recent Tablo app, the schedule (future) data is missing but the rest works.
On my PC browser, I cannot establish an authenticated session.
I hope a member of Tablo staff is a Tablo user. Otherwise, we will have to wait till Monday!
Does anyone else have subscription issues? My Tablo reports that I have no subscription and the subscription refresh does not resolve that issue. Thus, my scheduled recordings are missing. Of course, you see this you need to have access to one of the devices (e.g. Roku) that can access the Tablo if there is a Tablo server issue.
I am down too.
Problem for me is though the local connected apps work, the device cannot get/validate its subscription. SO even those apps don't work right.
Best way to help Tablo troubleshoot is by posting Tablo model and how your tablo is connected wifi/Ethernet?
Hello all, we're investigating this now. We'll post here with any updates as soon as we have them.
Thanks @craigF!
4-Tuner OTA DVR (Old model)
Ethernet, Static IP via DHCP, Manual port forwarding config on firewall.
Software:2.2.28/HTML:1.1.8 (Build 30005024)
Same experience for me: Win10 APP gave authentication error but FireTV would connect and play Live TV. I rebooted the Tablo and now it cannot validate subscription. Prime/TV/Movie/Sports are all disabled and Schedules is now blank. "Refresh" in settings on subscription doesn't update. "Manage" says it is expired, but account.tablotv.com shows my lifetime subscription is active. I do not have premium add-on for channel skip.
Yes, appears a change for the better - my chrome app is busy syncing now.
FireTV and iOS now show subscription data and previously disabled features are enabled. Win10 connects and shows previously disabled features, but says "No subscription details are available" verses "Your guide subscription is active".
My tablo app on my windows computer is connecting but showing no subscription. recordings and stuff is still there.
Hi all, thank you for your patience. All systems should now be back online. We are investigating the root cause of this failure and taking steps to ensure this does not happen again in the future.
If you still encounter any connectivity issues, try rebooting your Tablo and reconnecting with the application you're using. This should solve any issues you're seeing.
If you're seeing any kind of subscription validation issue, navigate to the Settings screen of your Tablo app and select the 'Refresh subscription' button. This should solve any subscription issues you may have been seeing.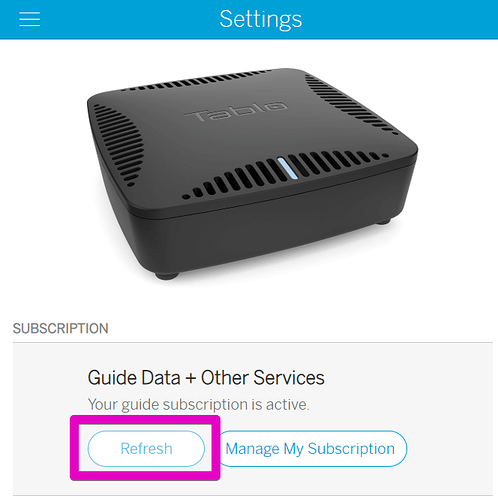 I needed to toggle my scheduled recordings to restore them properly. Others may want to check if your upcoming scheduled recordings are truly set to record as expected. If not, simply go into each each scheduled show and click "Record All Episodes" then "Record New Episodes" or vice versa which should resolve the issue. Movies will need to be manually rescheduled and I am unsure about single event shows or previously set manual recordings.
Curiously CycleJ's Tablo Ripper was working fine while web access was broken so I was able to pull some of my recordings but… it is now broken since @tablosupport "fixed" the issue…
Well… not completely broken. The Tablo Quad is cabled and not wifi and is set for DHCP. @CycleJ ripper 2.4.1 has been able to find the quad this way for weeks but since the "fix" today the ripper cannot seem to find it any longer unless I look up the IP assigned to the tablo and plug that into the "Tablo Static IP" block and Refresh. Very strange. Perhaps @CycleJ can comment?
Thanks for the reminder - this has happened at least once before. Just took me two hours to reset all my schedules. Curiously the series I record survived (though without any proper scheduled recordings) but all the movies just vanished and had to be scheduled from fresh (no toggling).
Not fun.
to mix things up -> Remove Schedule then re-select Record [ All | New ] Episodes.
Same thing happens, but if you have enough it might add some variety