According to Cord Cutters News, the 4-tuner version of the Gen 4 may now be available.
Will it work in Canada with or without the extra streaming channels
We were planning to announce this tomorrow but Luke's readers are good sleuths

And still only 128 on board memory. This might have gotten away with it with the 2 tuner this won't fly on a 4. I know the answer is expandable storage… and that's easy for most of us (advanced users) here on the forums.
The new customer won't know this, or how much storage a day of NFL will take.
I put this in my parents hands, and it'll be returned in a week.
Just my $0.02
Memories of the OG Tablo. It (OG devices) had to go through similar growing pains, took years (?)
Back to square one with the 4th gen I suppose.
If you know that why would you put it your parents without a USB disk.
I want to know that if you are using on board flash when does the transcode from mpeg2 to mpeg4 occur.
I won't. They are in a dead zone actually antenna wise. It was hypothetical.
I have them connected to my quad in my home and they watch remote
If the 50 hours reference in the features listing is indeed accruate, I don't know that I agree. I think at the price point it's at, 50 hours is an acceptable "gateway" into the OTA DVR scene.
We have a 4 tuner OG Tablo and we delete recordings immediately after watching them so 50 hours is plenty for our situation and I bet that would be true for a decent percentage of current and/or potential Tablo users. The flexibility (but not requirement upon purchase of the product just to use the product, see the OG Tablo models) to add storage if your usage pattern warrants to me is a selling point.
Then I guess I'm a data hoarder
On my gen1 two weeks of recording HD programing for my family and parents nearly filled 500GB. I went in and throttled the quality down and deleted some scheduled programming.
NFL takes a big chunk of this as some watch it days later.
To each his own, I totally understand your viewing habits and usage are different than ours.
Figure a 1 hour ATSC 1.0 recording is probably between 2GB-4GB depending on whether it's 720 (i.e. Fox) or 1080P (ABC, CBS, etc.) and 500GB is 125 hours, or 62.5 hours a week.
I would venture that's probably more than most users. Granted, if you record a lot of NFL games, that's probably ~10GB a game so I understand that adds up quickly. For your situation it obviously makes more sense to switch over to external storage so that you can have more capacity but I would guess in the overall picture you would be more of a "power" user (hoarder seems harsh to me, you just have a specific use case).
Resolution isn't everything. Here in Chicago, I can see a major difference in drive activity light between WBBM and WMAQ. Both are 1080i, but WMAQ also carries WSNS in HD, too. On WBBM, the light blinks almost constantly. On WMAQ, there are long pauses.
This is on a 2-tuner HDMI, so it is pure MPEG2.
I preordered before already. It's been online for preorder.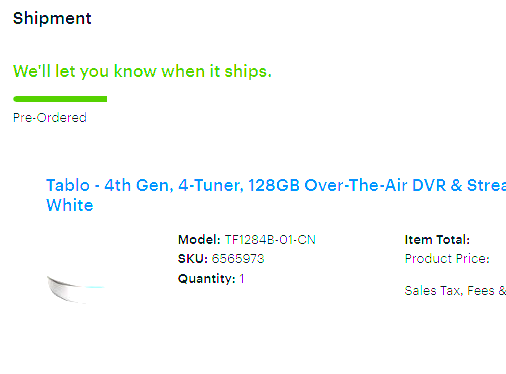 I have a 5Tb on my 2 tuner Tablo and will move it to this. Pay $100 and get more storage than you probably will ever need. I have this 5Tb on a 2 tuner white Tablo, 4Tb on a 2 tuner ATSC 3 Zapperbox and 3Tb on a TiVo Bolt right now.
Only bad thing about to much storage is you let it fill up and don't always watch shows like you would with more limited storage. I must have 500+ hours of recordings over all 3 DVR's easy, I think 10+ ATSC 3 NFL games on the Zapper or even more as I never delete anything as I have 5Tb.
great price. hard to pass up with no subscription fee. But I had tons of legacy tuners plus plex SD 4K tuners. So I grabbed an original 2-tuner for $80. I keep waiting for my 2014 OG model to die
I hope this releases soon as I plan to replace another brand DVR I just sold once this comes. ATSC3 is just not ready I feel, so sold it and going back to Tablo as I like the new UI.
With the four tuner 4th gen model available for pre-order at Best Buy exclusivity right now, I'm planning to get it at some point.
I got the two tuner 4th gen model to see what this Tablo ecosystem is like. After I get the 4 tuner at some point, I'll give this two tuner model to a family member. I'm very impressed at how Tablo curates and presents the TV guide information. Very impressive.
I am a little bothered in a way

as I noticed BBuys actually charged my credit card 11/13 for the full price and there is no ship date still and I noticed they removed the ability to even cancel it. Unless I hear some kind of date semi close,

I might dispute it as I am going to have to pay it off or leave it in case and pay interest on it and I have not even received it yet.
Don't feel so bad.
I had to pay $3500 to have a smoker built and it took 19 weeks before I received it.