The Problem:
I have been having a problem with my Tablo's network connection recently. It will work fine for a while after I plug it in, but after an unknown amount of time, my devices will suddenly have problems connecting to the Tablo. It seems like my devices can see the Tablo on the network, because it shows up, even after I remove the sync data from the subjective devices. When I try to connect, it says "Connecting…" for a long time, then gives the error message: "A connection to your Tablo could not be established. Please check your internet connection." I usually have to go and reset the Tablo, then it works fine again for a while. It usually stops connecting again sometime overnight.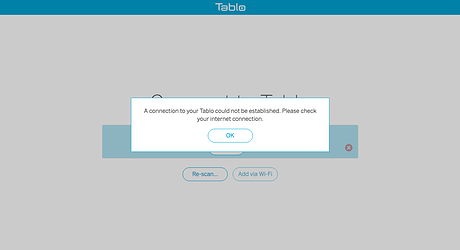 My Devices/Setup:
I connect to my Tablo using Roku's, iPhone 6s's, and a MacBook Pro. I get the same result/issue on each device. My Tablo is connected via wifi to my Arris SB6900-AC router (I have Comcast Xfinity as my ISP).
What I've Tried:
Resetting the wireless router/modem multiple times
Resetting the Tablo (via blue button and unplugging) multiple times
Removing the Tablo from my devices and re-connecting it
Resetting the Tablo's connection settings (connecting it to my network and putting in the password again).
A simple reset of the Tablo seems to help in the short term.
What might be causing this problem? Could it be on the Tablo end or my router's end? Any settings I should look at/change? Should I contact Tablo so they can look at the device's internal logs?
We recently did move and get a new ISP as well as router, and the problem started shortly after, but I'm not sure if something may have happened to the Tablo in the move, or if it's something with my router. Any insight would be much appreciated!