Over the next couple of weeks, the hardworking team at Tablo HQ will be taking some time off to hang out with family and friends.
However, a limited crew of support gurus will be available to assist customers with any pressing issues.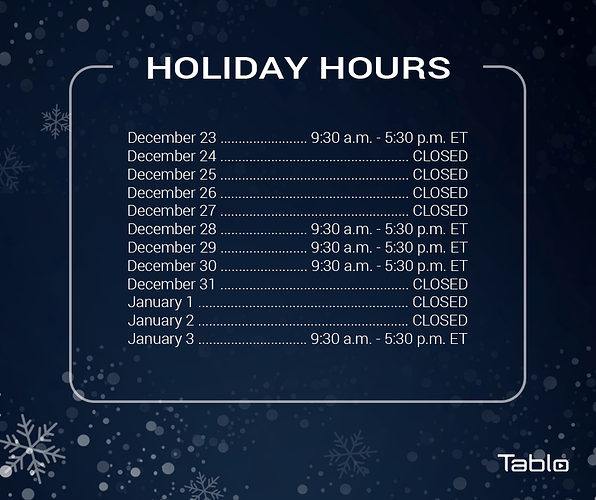 Our holiday support hours will be as follows:
December 23 – 9:30 a.m. - 5:30 p.m. ET
December 24 – CLOSED
December 25 – CLOSED
December 26 – CLOSED
December 27 – CLOSED
December 28 – 9:30 a.m. - 5:30 p.m. ET
December 29 – 9:30 a.m. - 5:30 p.m. ET
December 30 – 9:30 a.m. - 5:30 p.m. ET
December 31 – CLOSED
January 1 – CLOSED
January 2 – CLOSED
January 3 – 9:30 a.m. - 5:30 p.m. ET (return to regular hours)
Response times over the holiday break and into early January may be longer than usual, so your patience is appreciated.
We will resume normal hours and staffing levels on January 3rd, 2023.
As always, if you have a question about using Tablo or if you need some assistance, you'll likely find the answer by using the handy search tool on TabloTV.com.

Still puzzled? TabloTV.com/support has links to key resources like quick start guides, troubleshooting tips, and more.
And of course, you can always search or ask the helpful folks on the community forum!
Happy Holidays everyone!