When I got my Tablo I originally set it up with an ethernet cable. I've decided I would like to move the device and connect it to my home WiFi. I took the following steps:
Disconnected existing cable
Performed a reset of the device
Opened the Tablo app on my phone and selected "Add via Wi-Fi"
Connected to the "Tablo_****" Wifi network and returned to the app
At this point I see a "Choose Wi-Fi Network" screen with no WiFi networks available:
I click on the "Rescan" button and get stuck on the following screen indefinitely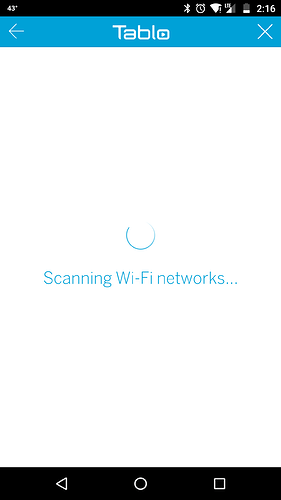 Any hints on how I can get this device to find my home Wifi? I have the device sitting in the room with my router which is running a WPA2-PSK secure network. I've also tried entering the information manually with no luck.