Hello, I just purchased a tablo and been having a few issues with it. I am hardwired to a netgear r7000 router. I am using an amazon basics sky 60 antenna. All my channels show max all green. This has happened on live tv and it is happening on a few recordings. Basically, I get playback error on them. Generally about 2 minutes into watching it. I get this on my new fire tv 4k. I also get this on my phone and at my.tablotv.com on my computer. The computer, instead of playback error, It just stops playing but acts like it is.
For example, one show it would normally do this at 1 min 42 seconds. Other times on that same epp, it's at 2 mins or more. I fast foward and it may play a few more mins. Another episode, it plays for 12 seconds then restarts at the beginning. Other episodes play just fine.
My harddrive is a FANTOM WD10EAVS-00D7B1. It is powered off a power adapter and not usb. I am worried it's having trouble with the drive but the tablo has little to no exposed diagnostics tools, so I have no idea what's wrong.
I really want this thing to work out. If it's a signal drop problem, I am worried this will happen in the middle of a show and you won't be able to resume. Currently I have to back out amd restart the show and fast forward past that point and hope it works. All the fast forward thumbnails are there so it feels like the feed was good.
ANY help would be much appreciated. I am currently on 2.2.8.
I don't believe it's a network issue, as my network is solid and most of my devices are hardwired.
Thanks
Edit: Just tried running one of the problematic recordings in chrome on my desktop with the debugger enabled. This time is failed at 1:35 into it.
The console log shows:
6cf5605….js:253 GET http://192.168.1.7/stream/segw.ts?sAi7NQ3qfxM6yS0lenqIOA net::ERR_CONTENT_LENGTH_MISMATCHo @ 6cf5605….js:253
6cf5605….js:262 [videojs.Hlsjs] received ERROR: Object {type: "networkError", details: "fragLoadError", fatal: false, frag: Object, response: ProgressEvent}
It then continues to spam ERR_CONTENT_LENGTH_MISMATCH
Image of Log: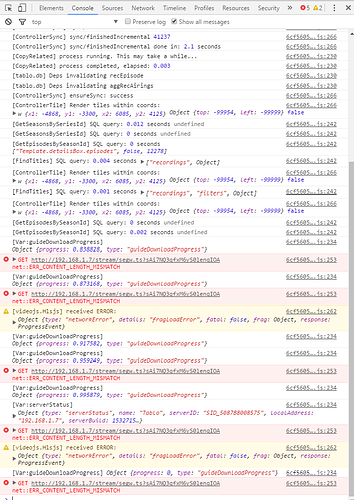 Another recording of a different show displays this error every 3 seconds, then the video flades away for a second or two, then comes back and continues the video. After so many of these the whole video restarts.
[videojs.Hlsjs] received ERROR: Object {type: "mediaError", details: "fragLoopLoadingError", fatal: true, frag: Object}