I get no blue light after rebooting. Any suggestions?
Ed
How old is your Tablo and is it still operational? If it is dead and still under warranty, then contact Tablo Support. If it is out of warranty, then it's possible that the power adapter has died. If the unit is still operational, then it is possible that someone turned off the LED on the settings screen.
There have been several topics related to power adapter failure, so if the unit appears to be dead, that is the first thing I would try after making sure all cables are correctly attached and that the existing power adapter is plugged into a live outlet. You can purchase a new adapter directly from Tablo for $10.00.
Depending if there is any activity, it is possible to disable the blue light via settings.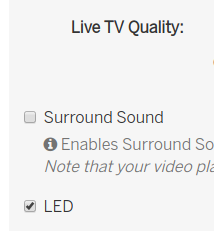 If your tablo is still active/accessible otherwise you (or someone you know) may have inadvertently unchecked this box.
Another advantage of using the ethernet port: the activity lights on the port will tell you if the device is currently under power.