Hi folks -
A small update to Tablo's Roku channel is on the way.
It's mostly back-end changes to reflect the newest Roku models and the impending 'retirement' of REALLY old models along with some small bug fixes.
If you've already got the Tablo channel installed, and your ROKU is set to automatic updates you should see version 2.12.0 shortly.
Here's what you can expect…
---
Tablo Roku Channel (v. 2.12.0)
Bug fixes and improvements
NOTE - The minimum Roku OS version requirement is now 9.0.
If you are using a Roku model that has been deemed 'legacy' by Roku, you will receive the following warning screen: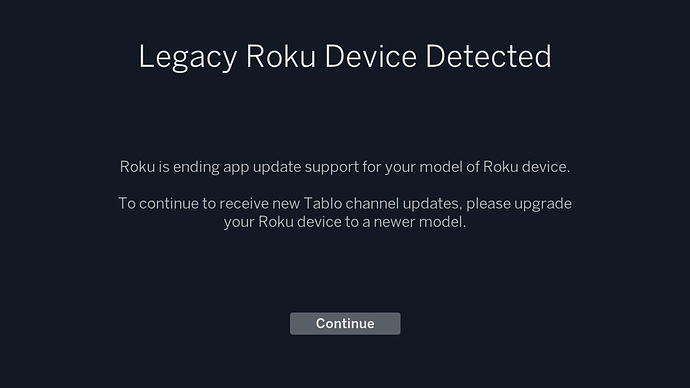 ---
Not sure which model of Roku you have? Go to your Roku's Home screen and select
SETTINGS > SYSTEM > ABOUT > OK.
Models that will receive this 'legacy' notice are:
Roku DVP (N1000)
Roku SD (N1050)
Roku HD (N1100)
Roku HD-XR (N1101)
Roku HD (2000C)
Roku XD (2050X, 2050N)
Roku XD (2100X ,2100N)
Roku LT (2400X)
Roku 2 HD (3000X)
Roku 2 XD (3050X)
Roku 2XS (3100X)
Roku LT (2450X)
Roku HD (2500X)
Roku Streaming Stick (3400X, 3420X)
You can read more about the reasons behind the retirement of these old models in the latest Cord Cutting This Week newsletter.
We hope you enjoy this update! If you have any questions or concerns, don't hesitate to post a reply below or contact support directly.