Happy Tuesday Tablo Fans!
We've got some news we're quite excited to share with you all today!
Over the past year, our Android team has worked really hard on creating a new native app for folks watching Tablo content via Amazon Fire TV and Android TV-based devices.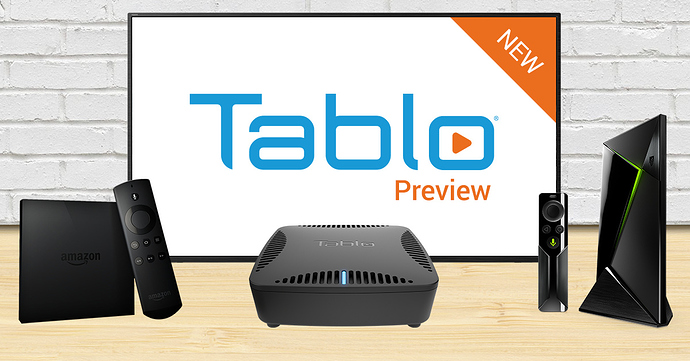 The app isn't 100% feature complete yet, which is why we're still calling this a 'Preview', but it will give you access to all of the screens and features you need for day-to-day use.
(For those of you who've been around since the early days of Tablo, you may recall we did something similar with our Roku channel.)
You can read all about it on the Tablo blog:
https://www.tablotv.com/blog/new-preview-tablo-app-amazon-fire-tv-android-tv/
Why You Should Give It a Try
There are three reasons why we think you'll love this new app experience:
No Sync - This app relies on our REST API which is also what runs our Roku and Apple TV apps

Faster Performance - As a native app, this interface offers fast, buttery smooth navigation

Interface Enhancements - We have included several interface enhancements based on user requests like swapping recording flags for underlines in the Live TV grid so you can more easily see what shows are set to record.
We hope you really enjoy this update. And you can run both apps at the same time and easily switch back and forth if there's a feature you're missing or someone in the family is having trouble adjusting to change.
If you have any questions about the Preview app, let us know below.