That's a neat one… Will pass it along!
@TabloEngineering @TabloSupport
RE: Tablo iPadOS / iPhoneOS app version 1.8.7
When watching recordings with successful commercial skip they work fine on Apple TV.
But with some programs (not all) on my iPad Pro the commercials are marked off with yellow bars but during playback no skip occurs for the same show where they work on Apple TV.
This only happens with some shows that have successful skip ready indication in the app, I cannot determine anything about the show that would cause this condition.
This seems to a bug in the app.
We'll see if we can try to re-create this here.
If you have specific recordings that you're seeing this on, please make sure to keep them on your hard drive. We may want to take a look at the details.
Stay tuned.
Sorry I deleted the show. The most recent was "This Old House Trade School" on the CW network.
When you run into another one, let us know!
Lately it seems like every 2 weeks or so my iOS iPhone Tablo app is unable to connect remotely.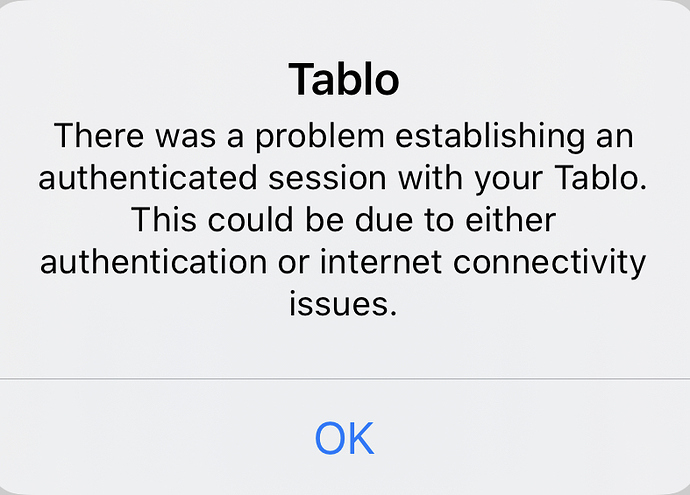 Once I get on the network and sometimes uninstall and reinstall the app I'm okay for another few weeks. Starting to get annoying - and if I was traveling I'd be SOL.
I see the EXACT same behavior. Must delete and reinstall the app to get connection.
Seems to be only the iPhone. Have not seen this on iPad.
The issue is only with my iPhone, and the fact that I'm not alone is not good.
I've only gotten this error on my iPhone after there is an app update. Does it coincide with when you updated the app?
I thought it was only doing this after updates, but I could swear it's happening now by itself as well. I'll give it another chance, but Nuvyyo should fix this bug or ask users to do an uninstall first. Of course the best situation would be to allow off-the-network validation.
This, I am constantly reinstalling on my iPhone 11 Pro. Even on the network.
It's happening often, not related to updates. I'm also running The most current iOS and it was happening prior to my update.
I have the same issue!! Seems to occur every week or two and when I've had a harder time connecting via remote connect. I'm on an iPhone 11 Pro. Seems like a bug to me😏
I'm on an iPhone 7+ with the latest iOS. It's either a bug or they've been doing stuff on their backend (related to commercial skip maybe?) that occasionally breaks the registration.
I too get this issue BUT I don't have to re-install the app, just clear the sync data by clicking the little red X beside the Tablo name on the "Connect to Tablo" screen.
Takes about a minute, connect to Tablo comes back up. Sometimes I have to re-scan to see the Tablo again (most of the time I do not).
Click connect under the new Tablo area.
Not sure if this is faster or slower than just deleting the app but it works for me. Still annoying, it does seem as it has been happening more often the last couple of months.
I have the same problem with my IPad on iOS 13 either home or away. I also delete and reinstall and it connects fine. If I am away, I then use the web version at myTablo.com and reinstall when I am back home.
It is annoying but at least there is a workaround.
Not if you're in the habit of clearing your browser cookies and cache regularly, which many of us do on our mobile devices. If so, the web version is not a viable backup solution…
Ok so I got this connection issue / failure as well today. There was a power outage last night so the Tablo rebooted of course and the iPhone app will not connect remotely. The only way to fix it was to connect locally first, so essentially re-pairing the app the the Tablo. This is on an iPhone XS Max running iOS 13.3.
@TabloTV This did not use to happen after a power outage.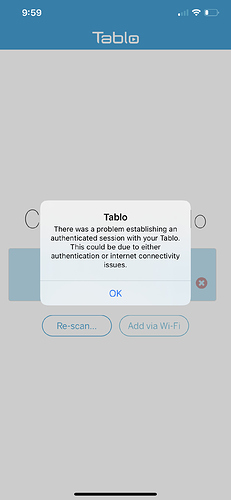 Yep, that's my observation. I don't believe I've ever rebooted or had a power outage, but there seem to be factors aside from an app update that occasionally break the pairing. And it goes without saying that an update shouldn't break remote access, leaving those who paid for this feature perpetually hanging by a thread or SOL until they're back home. In my mind Nuvyyo has to figure out a way of preventing this, or allowing a remote re-registration/re-pairing.
I've been seeing this blocker bug on iphone SE. Samsung S8 works fine at same time iphone SE fails over the same wifi. Haven't tried the workarounds yet.
This is still happening. Power outage happened again yesterday, and now I cannot connect remotely to the Tablo on my iPhone XS Max running iOS 13.3
The pairing is not broken on an iPad Air running iOS 12.4 and I can still connect.