Hi folks -
In anticipation of the release of iOS 11, a new update to the Tablo app for iPhone and iPad is rolling out starting today.
Those of you who use the iPad app will notice some changes. We are transitioning our iPad app to a web-based app like the iPhone app. This means the iPad app will have new features like bulk delete which should make it much easier to use! Plus, moving forward it will be faster and easier to add new features as they roll out.
Tablo App for iPhone and iPad (v 1.3.4)
Adds support for iOS 11
Fix for issue where playback of in-progress recordings was not possible
Improvements to connecting and sync processes including adding helpful error messages
Improvements to error handling during video playback
Fix to allow manual recordings to be set less than 1 hour in the future
Fix to show network affiliate name vs. call sign (when available)
For iPad:
Adds 'Ratings' Guide Filter
Adds Recordings Filters, including 'Most Recent'
Adds Bulk Delete
Many more performance, reliability and UI fixes and enhancements
We hope you like it just as much as this kitty loves this fish app: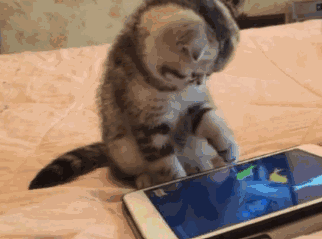 If you have any issues with the update, please let us know below!