Hi folks -
A new firmware release for Tablo DUAL HDMI and Tablo QUAD HDMI DVRs is on the way.
(This release is NOT for network-connected Tablo DVRs.)
This update includes a long list of bug fixes and improvements which should result in a much more stable and enjoyable experience.
A notification will pop up in the Tablo interface before Thursday, March 17th.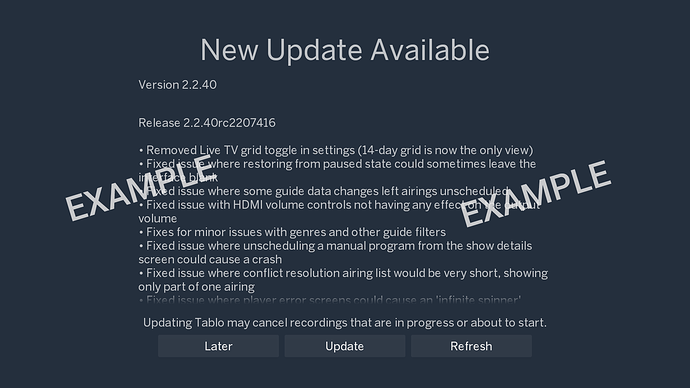 To check for the update and process it sooner, navigate to SETTINGS > ABOUT > CHECK FOR FIRMWARE UPDATE.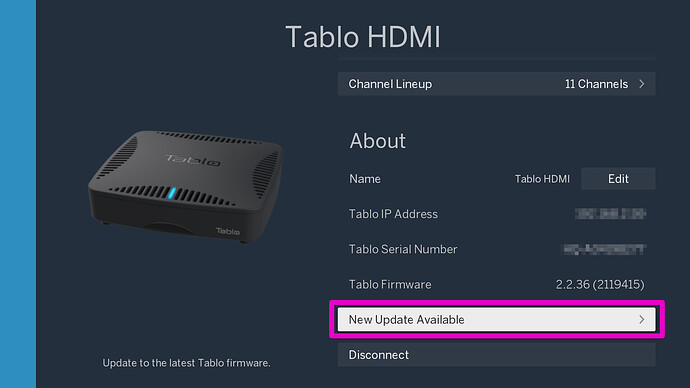 Here's what you can expect:
---
Tablo HDMI Firmware Update (v. 2.2.40)
• Removed Live TV grid toggle in settings (14-day grid is now the only view)
• Fixed issue where restoring from paused state could sometimes leave the interface blank
• Fixed issue where some guide data changes left airings unscheduled
• Fixed issue with HDMI volume controls not having any effect on the output volume
• Fixes for minor issues with genres and other guide filters
• Fixed issue where unscheduling a manual program from the show details screen could cause a crash
• Fixed issue where conflict resolution airing list would be very short, showing only part of one airing
• Fixed issue where player error screens could cause an 'infinite spinner'
• Other fixes to mitigate additional potential sources of 'infinite spinners'
• Additional performance improvements and bug fixes
NOTE: Firmware updates may take several minutes to complete. During this time the Tablo will display an update screen.
---
Because of the many fixes and improvements this update provides, we suggest that you update your Tablo ASAP and especially before contacting support as it may correct issues you've been experiencing.
What You Should Know About This Release
If you continue to experience 'infinite spinner' issues AFTER processing the 2.2.40 firmware update, please contact support with as many details as possible. As mentioned, one of the other major changes is the removal of the toggle that allowed users to switch between the 14-day Live TV Grid and the 24 hour grid.

We have determined the 24 hour grid had been causing a number of problems so we have eliminated it in favor of the newer 14-day grid.
Customers without an active TV Guide Data Service subscription will still only see 24 hours of data in the Live TV grid, but the interface behind it will be using this newer implementation.
For tips & tricks on successful firmware updates, head over to the Knowledge Base.
If you have any feedback or questions about this release, please post them below.
If you need support assistance, place a ticket and we'll touch base with you soon.