Hi folks -
A new firmware release for Tablo DUAL HDMI is on the way.
(This release is NOT for network-connected Tablo DVRs.)
This is a maintenance release intended to address some issues seen by early customers. Thank you for your patience as we've worked on these tweaks.
A notification will pop up in the Tablo interface by tomorrow (Tuesday the 1st of December) but you can check for and process the update immediately by going to SETTINGS > ABOUT > CHECK FOR FIRMWARE UPDATE.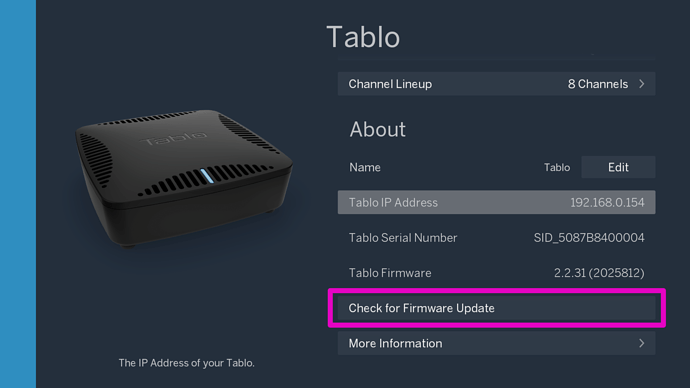 Here's what you can expect:
---
Tablo DUAL HDMI Firmware Release (2.2.31 - November 30)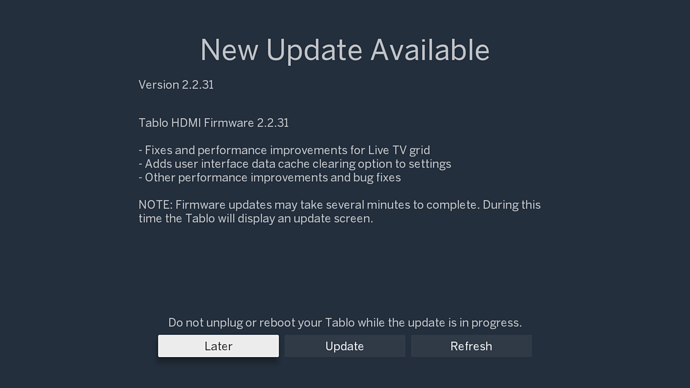 Fixes and performance improvements for Live TV grid
Adds user interface data cache clearing option to settings
Other performance improvements and bug fixes
NOTE: Firmware updates may take several minutes to complete. During this time the Tablo will display an update screen. Do not power down the Tablo until after the unit has rebooted.
---
If you have any feedback of questions about this release, please post them below.
If you need support assistance, place a ticket and we'll touch base with you soon.