Hi there everyone,
An update is on the way for Android mobile devices!
You should receive a Play Store notification shortly.
Here's what you can expect:
---
Tablo Android Mobile Update (v.1.9.31)
Change to Wi-Fi setup for devices on Android 10 and above
Other bug fixes & performance improvements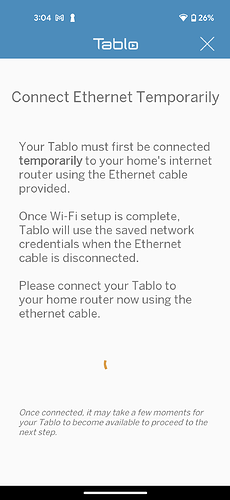 ---
About This Release
Recent changes to networking protocols on mobile devices running Android 10+ were causing difficulty with Wi-Fi setup on the Tablo app. This update changes Tablo's Wi-Fi setup process for those devices to help ensure successful outcomes.
The setup wizard will now instruct you to connect your Tablo TEMPORARILY to your home router using an Ethernet cable first. Fear not, your Tablo only needs to be near your router during this part of setup and can be moved to your desired location when the setting of Wi-Fi credentials is complete.
If your device is older and using Android 9 or lower, nothing will be changing for you.


---
Beyond that, there should be no other visible changes. As always, if you have any questions or concerns, leave a comment below or drop us a line.