Hi there Tablo fans -
A Tablo app update is on the way for those who use Amazon Fire TV or Android TV devices.
If you have automatic updates enabled on your streaming device or Smart TV, you should see the update in the coming hours.
REMINDER - Everyone should be using the app called Tablo (and not Tablo PREVIEW). All new active development is being done on the main Tablo app and Tablo PREVIEW has now been removed from the app store.
Here's what you can expect:
---
Tablo Amazon Fire TV & Android TV App Update (v. 2.1.8)
Adds Surround Sound Passthrough override setting
Improvements to Tablo Connect streaming
Bug fixes & performance improvements
NOTE - The minimum supported Tablo firmware version for these apps is now 2.2.30.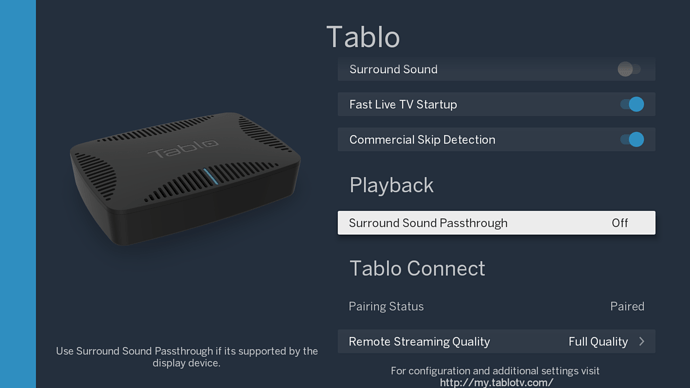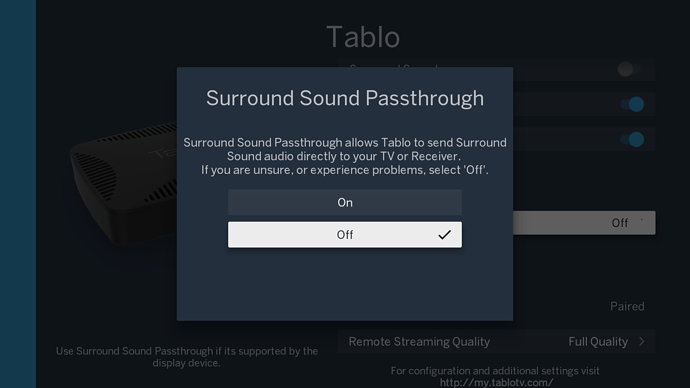 ---
Tablo Amazon Fire TV & Android TV App Update (v. 2.1.9)
---
About This Release
The new Surround Sound passthrough toggle should resolve the issue where some folks were unable to receive Surround Sound despite having a device capable of decoding this sound profile. If you haven't experienced any issues with receiving Surround Sound on your device, no action is needed.
And the fix for Tablo Connect streaming should improve results for those trying to watch recordings remotely.
As usual, if you have any questions or encounter any problems, feel free to post them below or touch base directly with support.