Hey folks, for a while now (at least a week, but could be longer), I've been unable to open the web interface to my tablo: my.tablotv.com
When I go there, I just get a blank white page, but the browser (I normally use firefox) continues to spin as if it's still loading the page. But even after several minutes, nothing ever loads. I then tried in Chrome and IE, and it wouldn't load there either (although those browsers didn't flicker and spin as if in a loop trying to load the page).
So I went back to firefox and opened the developer tools to see if I could see anything useful. Problem is, I'm not much of a developer and am not sure what to be looking for!
Here is what I did see: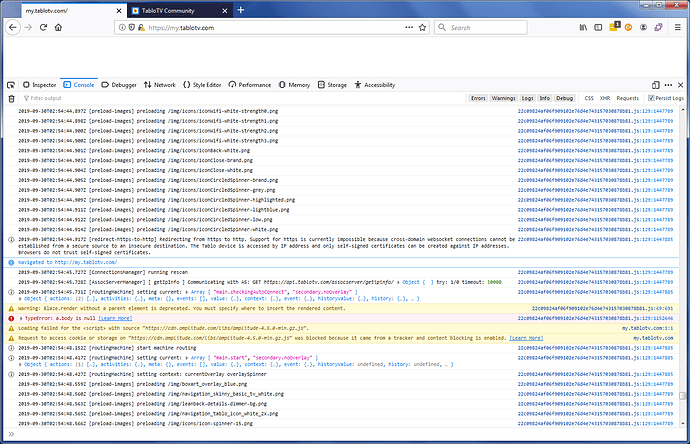 The tablo itself seems to be working fine - it's just the web interface I can't connect to.
Also, if this helps: I'm able to connect to the web interface via my phone (android) on both the home wifi and remote.
I realize this might not be all the info needed to diagnose the problem, but if you have an suggestions on where to dig, I'd really appreciate it!