Up graded google-chrome-beta from 91.0.4472.77-1to 92.0.4515.51-1 my.tablotv.com now just has the perpetual connecting rotating circle. I understand it's a beta channel… but it's on the way.
Thought my tablo was flubbed up (or ad/tracking blocking - all disabled). Yes cleared all site data and reset settings.
Loads in Firefox [beta] 90.0b6 | Google-Chrome 91 [stable] | Pale Moon 29 (forked from Mozilla's Gecko).
Also dos not load in Microsoft Edge Dev Build 93 (again not a stable release).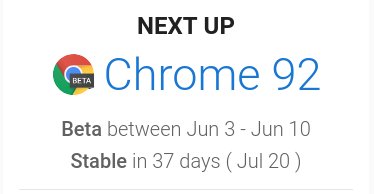 Maybe it's just my configuration/setup.