Through Amazon's Trade-in program. I dug an old (1st generation) Chromecast out of a pile of old junk / stuff, sent it off to Amazon and got credit for $2.99 on the trade. Free money, as I hadn't used the thing for several years (they paid the shipping).
Here's the good part: When you buy a new 4K Fire Stick or a Fire TV Cube (with All-New Alexa Voice Remote), they dump a coupon into your Cart - $20 discount for the Stick, $35 for the Cube. I chose the Fire Stick and they still credited the $2.99 in addition to the discount.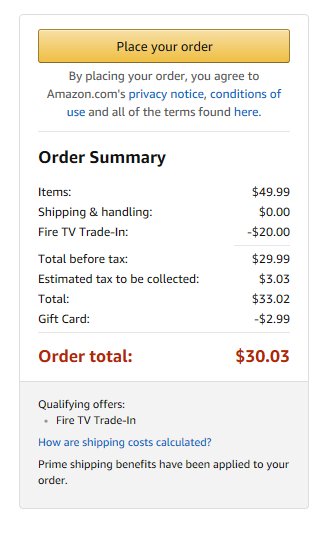 So I got a Fire Stick 4K for $29.99. I need this like I need a hole in the head, but it will make a nice little present for somebody this Christmas season. I knew nothing about this Trade-in program, this was a good (surprising) experience for me.