My Tablo is able to pick up 24 channels from Toronto and buffalo. I live in the Burlington Ontario area. Four of those channels however have no EPG data in the Tablo Live TV UI:
4-1 WIVB-HD
7-1 WKBW-HD
7-2 LAFF
7-3 ESCAPE
I tried disconnecting my devices (ios, Android, Android TV) from the Tablo and re-synching, and also re-downloaded the EPG. Nothing works.
Can anything be done to fix this? Or do those channels just not publish any EPG data ? I'm hoping that's not the case , as that would negate the DVR capabilities of the Tablo. Here is a screenshot: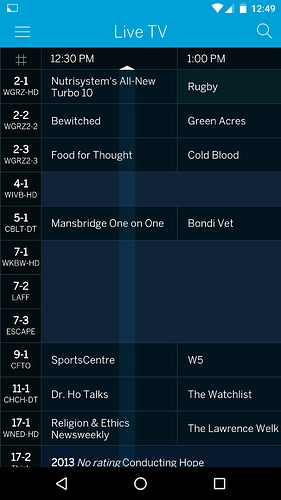 FYI - these four channels were added to the tablo after I repositioned my antenna today and did a re-scan (it didnt detect them before). Could that be the reason? Do I need to reset my tablo to factory defaults and do a fresh channel scan + EPG download?