Ok, so before I start realize I am going overboard here and trying to get as many channels as I can just to see what I can get and for no reason other than to say I did it.
My current setup is 2 sets of DB8e antenna's with 4 VHF antennas. They are connected to a Winegard CM-7870 Coupler. I then use a Channel Master CM-7777 pre-amp right after the coupler.
Now when I had only 1 DB8e antenna and had it going into the pre-amp I was getting some channels that are over 80 miles away for most of the day. Now I live between Baltimore and Washington DC. When I had just the one antenna I was pointing it toward Baltimore and was receiving channels from Harrisburg Pennsylvania and sometimes even some Philadelphia channels.
However, I was having trouble getting some of the smaller Washington DC Channels. So I added a second DB8e and the coupler. With that setup I locked in almost all of the channels between Washington DC and Baltimore but no longer get the channels from Harrisburg Pennsylvania (I really want the Steelers and Eagles games back).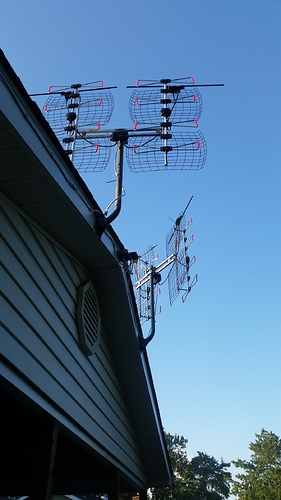 So now I want to try and get those obscenely far away channels back. My thought now is to replace the coupler with a Channel Master combiner 2512 (since I need DC to both antennas) and get another Channel Master CM-7777 pre-amp.
I then want to put one pre-amp on each antenna poll with a 1 foot coaxial from the antenna. This will drastically cut the distance down and make the amplification before the combiner is hit so the DB loss of the combiner does not take place till after the amplification and therefore lessening the chance of loosing the signal.(FYI, all the coaxial is Quad Shielded)
I am tech junkie but I do not know much about this kind of stuff. Just been doing a lot of reading. Would love some feedback/ideas from people. Especially if they think it will not work!
Below are links to all the equipment I have (or going to buy). The picture above is the actual antennas in my backyard now. Currently picking up about 84 channels (should have over 100).