Hi folks -
Yesterday, Tablo's subscription servers encountered an issue which caused a small subset of Tablo units to forget their TV Guide Data Subscription statuses.
This means that series recordings scheduled on affected units may fail and other TV Guide Data, Premium Service, and Cloud DVR subscription-required features and services may be temporarily unavailable.
We apologize to those affected. Identifying the root cause and steps for resolution are our top priority.
We'll share details below as they become available.
*** UPDATE ***
The engineering team has confirmed a bug was affecting users with Lifetime TV Guide Data subscriptions but that it has now been fixed.
Users with Lifetime TV Guide Data subscriptions should go to the settings screen in any Tablo app and hit the REFRESH subscription button.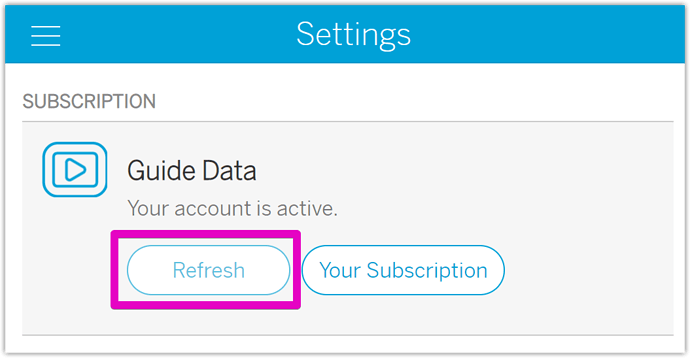 This button should now work as intended and resolve the issue.
If you are running Tablo firmware 2.2.24 or older, you may need to take the additional step of toggling the recording setting on your series schedules.
(Go to SCHEDULED > SERIES > REMOVE SCHEDULE then re-select RECORD ALL or RECORD NEW.)