15 miles east of DC. We receive all market channels (including some Baltimore!) except Fox and its subchannels (DTV 36, virtual 5 and 20). DTV 35 is on the same transmitting mast and comes in clear. According to TV Fool plot, both are in the green: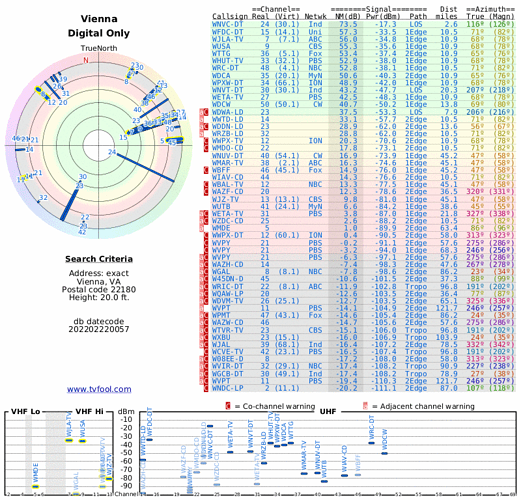 The old digital-to-analog converter box I use as a strength meter shows Fox signal strength and quality at 100 and 90, easily on par with all the other green channels. More importantly, the old converter box renders Fox perfectly fine. My Tablo Quad either displays "Weak signal" page or pixelated: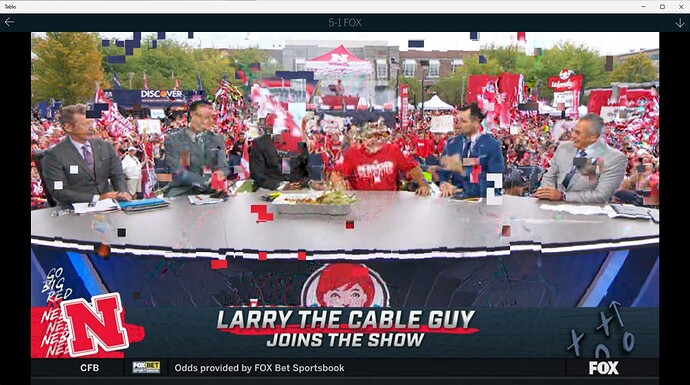 Antenna and cabling are not the problem. There's perfectly good reception on the non-Tablo system. Replies are welcome and thanks in advance.
You suggested Antenna Placement and having too much power was what worked for me. I removed my amplifier and slightly moved my antenna and it worked… Better than ever actually…
I have one more money of Fubo TV until I cut that cord and I'll get Philo for $25…
If you read above, you may see that I thought the same as you. Too Much power is not ideal with the Tablo… I had to move my antenna slightly away from the direction to have it work. Believe me it will work…
That's great! It's not the first thing people think of.
Based on Tablo's signal strength guide, DTV 36 (5 and 20 subchannels) is received at half-power compared to all other stations: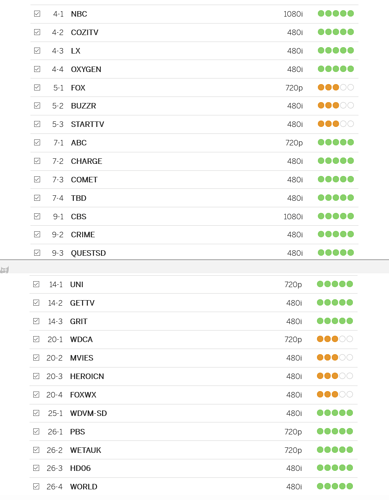 Station engineering has already told me that they're in compliance with their FCC license. It makes no sense that 2 UHF stations (35 & 36) adjacent to each other on the frequency spectrum broadcasting from the same mast at similar strength have such different reception, and only on Tablo.
I have found the signal meter for Tablo to be unreliable. I have several low power stations in my area that vary between 3-5 dots depending upon time of day that I scan (and time of the year). When using other equipment to look at the actual strength, the problem is interference on the channels. Since they are UHF 35 & 36, in your case it could be cell tower interference where you might need to add a filter for the 5G signals.
You can't use the Tablo tuner as an accurate measure of power. We don't even know if it's meant to be a linear measure. It's simply a guide to expected user experience for a given channel.
THIS