Hi everyone!
A small update to Tablo's Roku channel is on the way.
If you've already got the Tablo channel installed, and your ROKU is set to automatic updates you should see version 2.15.0 now or very soon.
Here's what you can expect…
---
Tablo Roku Channel Update (v. 2.15.0)
Adds new error messages
Bug fixes & performance improvements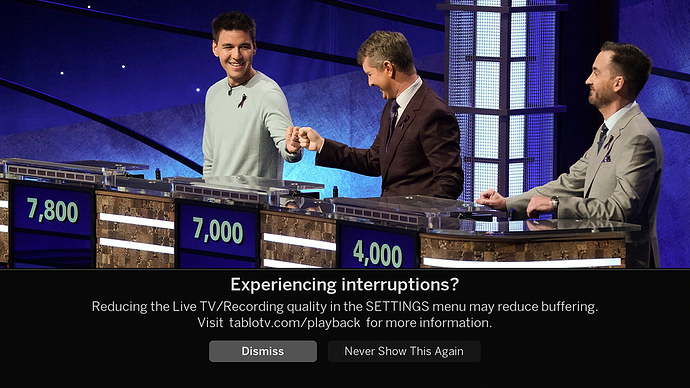 ---
Tablo Roku Channel Update (v. 2.16.0)
Fix for connectivity issue affecting a small subset of customers
---
New Buffering Error Message
The new error message is designed to direct users experiencing frequent buffering events while playing back live or recorded TV to resources that can help them resolve slowdowns on their home network.
We have taken care to make this new error message as unobtrusive as possible.
If you do nothing when the message pops up on the screen, it won't appear for the remainder of the video playback session but could appear in the next recording or Live TV session you view if buffering continues.
(In much rarer cases, buffering can be caused by using unsupported or failing storage.)
If you hit DISMISS, the message won't appear for at least 6 hours.
If you select NEVER SHOW THIS AGAIN, the message won't appear again for a year.
Using Tablo on Roku Without Internet
One other small tweak we made was returning the Tablo app to the 'Apps & Utilities' category.
Over the last few months, several customers reported that they were no longer able to access Tablo's Roku app when their external internet access was down.
Thanks to a user reporting the specific language of the error message, we managed to track this down to Roku apps in the 'TV & Movies' category displaying a Roku system-generated error when accessed on a device without external internet, effectively blocking Tablo's local network-based fallback.
Hopefully moving the Tablo app back to its original category will restore this capability.
If you have any questions or concerns, don't hesitate to post a reply below or contact support directly.