Happy Wednesday Tablo fans!
A new maintenance firmware update is on the way for your Tablo!
(UNLESS you have a Tablo DUAL LITE, in which case yours is coming in the next few weeks, so stay tuned!)
Like previous releases, this firmware will be offered in a staged rollout. A small portion of users will have access to this firmware immediately. We will increase access slowly as we judge feedback and distribute the firmware to increasingly larger batches of units over the coming week or so.
Here's what you can expect…
---
Release Notes for Tablo Firmware 2.2.20
• Corrects issue with 'orphaned' recordings
• Additional speed optimizations for channel tuning
• Fixed rare situation where Tablo Connect could stop working, if ports were manually configured
• Other reliability and performance enhancements
NOTE: Post-upgrade database processes (if needed) may take several minutes to complete. During this time the LED will be blinking. Do not power down the Tablo until the LED is solid again.
---
The other change that users may notice with 2.2.20 is that Live TV and Recording Quality settings have been decoupled.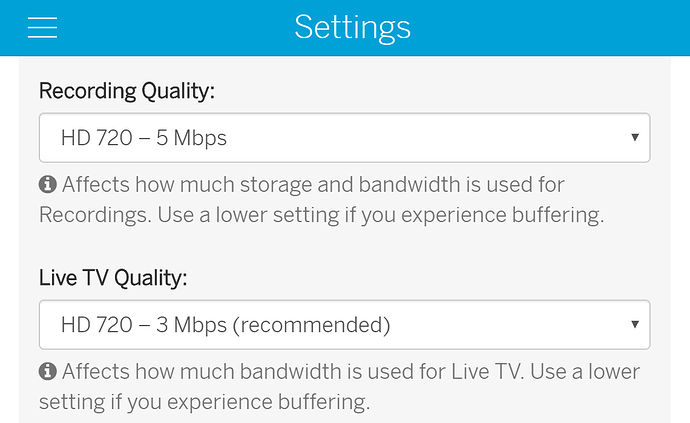 This means you can set the video quality and bit rate of Live streams from your Tablo differently than settings for Recordings.
You can read more about this change and what it means for Tablo users on the Tablo blog:
https://www.tablotv.com/blog/tablo-dvr-live-tv-recording-quality-settings/
For tips and tricks on successful firmware updates head over to the Knowledge Base.
If you have any feedback or questions about this release, please post them below.
If you need support assistance, place a ticket and we'll be in touch.