My Tablo app on my Samsung TV does not show a tab for Prime Time. This tab is available on Windows PC, and Android smartphone. Will it be added to the Tizen app?
I've tried uninstalling and reinstalling several times but It still locks up. The lockup is so bad I have to turn the tv off to get back into anything. I'm using 1.9 out of 4GBs of internal memory. Could this be the problem?
This could be the problem; if you decrease the storage you're using, do you get better performance? If this doesn't help, send our team a note and we can take a look.
Hey folks - The app has now been approved for most 2018 model groups: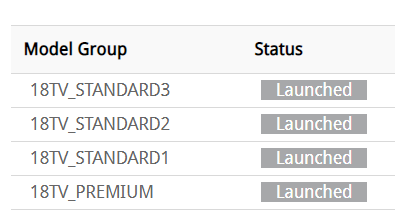 Note that this is still only for US-based televisions and since the app process for Samsung TVs is still quite mysterious, it's not clear if the app will be available immediately or will require a day or so to propagate.
Keep an eyeball out for the Tablo app if you have a brand-new Samsung TIZEN TV!
More on how to find the Tablo app on your Smart TV here:
And Samsung is about to lose another customer (seriously). I've been looking at the big 65 and 70 inch TVs all summer thinking it is high time I upgraded. Samsung's Tizen line is one of the few "smart" TVs that I would consider in Canada. But lack of Tablo app support is even more important to me than CraveTV.
Since I'm stuck with my Roku or switching to AppleTV, where can I find a high-end dumb TV in the 60 to 70 inch range in Canada?
Last week my ten year old Samsung died. It would have cost $300 to repair it. Instead I bought the LG 65UK6300PUE (65") smart TV. The TV tuner is outstanding! The best I've ever seen. It brought in 40 stations whereas all my other TVs, tuners and DVRs get 28. In my experience this LG tuner is the best period. I love WebOS and the Tablo app is reliable under WebOS 3.5. It also has Netflix and Amazon Prime. Now the only reason I need my Roku is for the Britbox and Acorn apps. The LG was on sale for $804 on Amazon (and since I have Amazon Prime no shipping charges).
BTW I don't think I can ever go back to a dumb TV. My wife and I have gotten used to the smart TV functionality. The TV guide is very good using the data provided in the OTA channel streams and is useful for switching and reminder\notifications. While surfing the guide, the channel shows in a background window

I'm assuming the LG goes out on the Internet to get supplementary info for the OTA guide since it shows posters and data for a show the OTA program stream does not normally carry. Depending on what data a station sends, the LG guide is a 24 to 48 hour grid. Clicking on an entry shows the artwork and additional info. This is an interesting way to develop a free guide…

My only regret: this TV can get channels the Tablo cannot and thus can't be recorded

I also did not get the LG Magic remote that integrates with Amazon Alexa and Google Home which I may do so in the future.
Tablo, will this app be available soon for us Canadian? Is there at least a chance will have it?
Just bought a samsung and it would be nice to have it.
Thanks
Unfortunately it's unlikely. Samsung breaks down their app store between US & THE REST OF THE WORLD and the rules for apps in 'the rest of the world' are too onerous for us to be able to release it on that side of the fence.

One of the many 'fun' things about dealing with non-standard app stores.

Thanks for letting us know. I had been considering getting a new Samsung Tizen TV. Now I know not to buy another Samsung.
They make TVs with great picture quality, but if you want your streaming stuff integrated into the television it's best to go with a set that runs Roku or Amazon Fire TV.
The Sony Android TV sets seem to work just fine. I have three of them.
What "we" want is a TV provider that provides great picture/audio that ISN'T SMART. And no, I don't want Vizio non-TVs. Can't we have a TV with tuner that isn't smart at all? Memories of the good ole days.
I'm not trying to knock the TV's with Roku and Fire built-in, but IMHO, even that is a mistake vs running the streaming box as a separate component.
All the "built-in" and SMART (incompatible) TVs are, is a recipe for disaster IMHO.
Yes! Offer a 70 inch with the same build, picture, sound quality and price as a Samsung Tizen and I'll buy it tomorrow.
With that said, our big TV is an LG (OLED), but we don't use the SMARTer side of it (I've looked at it, but why?). We tune channels TV wise and use our connected Roku. Our older LCD TVs are non-smart (dumb) with attached Rokus. The new Roku Ultra can power on my LG and raise/lower volume. So about the only thing we might have to do is switch between LG OTA TV and the Roku input (talking about where the LG remote/app/voice is used).
To the SMART TV credit side, since this means they all can be controlled from my phone, and my Roku can be controlled from my phone… you could say, at least we have the whole "one remote" thing…
I would say generally speaking I agree but I think the TCL Roku TVs are a great implementation.
I just don't like having them "together"… it's like tossing two things instead of one…
But, I do admit, I like the Roku TCL TVs.
Generally speaking, I agree with @cjcox on having dedicated hardware for specific purposes, but I love what TCL has done with their Roku TVs, they are outstanding! If you're going to get an integrated solution, that's one to get! They offer a fantastic experience at a fair price point, and have an army of happy owners.