If this allows a single antenna to be placed where there is good reception and other TVs just use the Tablo App to access OTA, I'm IN! I like that more than the DVR feature…however, the cloud DVR would be nice so I dont have to mucky muck with hardware, drivers, firmware, etc…I have a fat internet pipe and would love to be a beta tester!
I'm jacked about being able to place an antenna anywhere. My house isn't wired such that i can place my antenna in a convenient place. Also, i get two markets, one to the north and one to the south. Would be great to do a low cost solution to stand up another antenna
I am interested in the DVR software for the NVIDIA Shield. Do you have an estimate of when it will be ready for usage?
from their official announcement on their blog. ETA for Tablo DROID and Tablo TUNER is Q2 of 2017.
Can't help but wonder if it's 5.1 audio…
Yes, they call out that it does
Tablo DROID Android-Based Software DVR
If you've ever wished for a Tablo DVR that connected to your TV via HDMI, tuned live channels instantly or had 5.1 surround sound, then you'll be super excited for Tablo DROID.
Will be interesting to see how the pricing plays out for all this stuff. Especially for those of us that invested (foolishly?) in lifetime subscriptions for our Tablo boxes.

Guess this also speaks as to why there haven't been that many features updates for the original Tablo boxes. All the effort was being placed on stuff like this.
As we roll out all this new stuff, we'll definitely be cognizant of folks that have lifetime subscriptions. From the start, we've always said that your subscription can be applied to multiple Tablo units or changed to new Tablo units at any time. That won't change.
Im not sure I follow? Why would the lifetime subscription be foolish? I didnt see anything announced that repaces the existing Tablo DVR equipment… This brings more options for more customers specefic environments, but none of this does exactly what the existing DVR does?
Cloud DVR is awesome, but many of us dont have the bandwidth and I personally would rather store it locally anyway.
Tablo on ShieldTV, also awesome, and that fits those who wanted to connect the Tablo direct to a single TV via HDMI, but that only works on the one TV, those of us who have many TVs aren't going to go buy a Shield for every one and keep the DVR recordings separated.
The Live stick isn't a DVR at all, it can be paired with either of the above two options, but as stated above, they don't fit the niche that most bought the existing Tablo box to fill…
The foolishly was a question as it will depend on how Tablo allows use of the lifetime with other non original Tablo devices. @TabloTV answered that above so we should be okay hopefully.
Sorry but this device seems like a big step backwards. I was more hoping for a new 6 tuner model with built in storage.
I think they are trying to expand their target audience. There is a whole slice of the audience that won't even consider Tablo without 5.1 support. I happen to NOT be one of them but I understand that to continue growing their business they need to expand their target audience.
Having said that, I understand that given they are a smaller company this explains the lack of long awaited Android app updates recently as they were focusing on preparing for CES but I hope now that the CES announcement(s) have happened they can turn some focus back to app updates to at least bring the apps to feature parity (call me old school but I really want the Recent and Upcoming views on my Shield TV like I have them on my Roku 3).
Since I rarely view live TV I'm pretty happy with my current Tablo setup, but I'm a big Plex fan and really wish better (official) integration with Plex was clearly on the horizon. I've love to basically have Plex DVR but using my Tablo as opposed to HDHR hardware.
A lot of the UI work for DROID will appear in the new Android TV apps as well.
Here's some screenshots from DROID. You can expect similar things from the updated apps: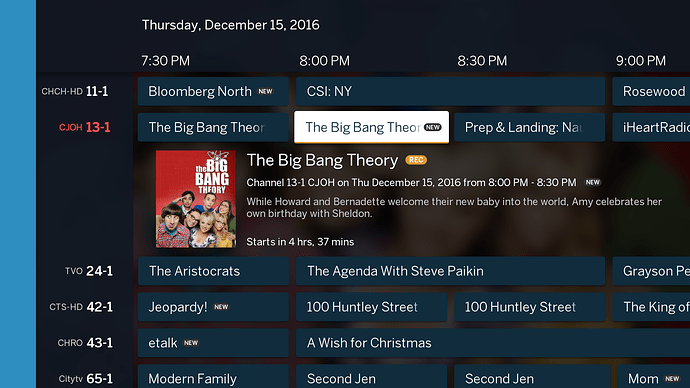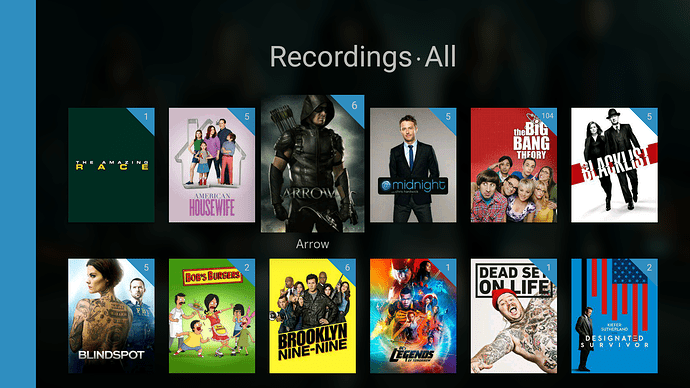 104 Episodes of The Big Bang Theory!
I guess we know what you guys like to watch…

The Tablo DRIOD and Tablo LIVE tuner is nothing more then an attempt to fill a niche market. The real effort is to port the DVR software onto the Android TV OS. Much like Tivo, everyone would like to eliminate the hardware development costs and push as much software functionality as possible onto the various OTT media players. Thus they absorb hardware development costs.
Of course with less then 1% market share and a price point of $200 and $300 I don't know if Nvidia Shield is that good of a first out product.
Will it also work with Mi Box and Nexus Player?
Nexus is unlikely since it's older-gen and no longer available. Mi Box is a potential we're looking at!