how do i get muy tablo to recognize i have a subscription?
On the subscription page there is an option to add a Tablo. If you click on that you will get a window to add the serial number of your Tablo.
In My Account on the Tablo website do you see your Subscription listed and below that your Tablo unit? Assuming so, just give it a little time to be recognized.
If you purchased your Tablo unit in the last 30 days you will not see a difference if you started the 30-day free trial of the subscription, it will just now be extended.
Go to my.tablotv.com
Go to 'Settings'.
In the 'Subscription' section you'll see your Tablo's subscription status.
If you paid for a subscription, but it doesn't show you did, click on the 'Refresh' button.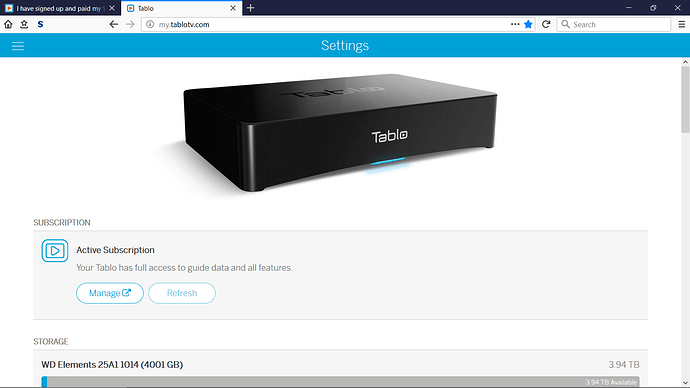 Can someone post a link to the Subscription Page?
Article going thru guide subscription steps:

Can't login, my email and/or password is not recognized
and the Forgot Password fuction is not working.
Tablo has my email info from when I ordered my box.
Radojevic, You were correct. I now can log in and see my monthly subscription is paid.
Thx