Happy Friday Tablo fans -
This is a note mostly for our American friends who may not be aware that Monday is Canadian Thanksgiving.
Q - Wait… You have Thankgiving in Canada?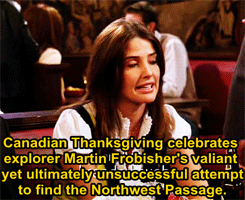 (Actually true! But, in reality it's pretty much exactly like American Thanksgiving with less football and marshmallow-covered side dishes.)
Q - So what happens if I need help with my Tablo on Monday?
A - Unfortunately we'll all be in a turkey eating-related coma on Monday so you'll have to be a bit more patient with us. You can still place a ticket at any time, or leave us a voice mail and we'll return your message on Tuesday.
Or if you're in a jam, the answer to your question might already be here on the Community or in the Knowledge Base.
To all of our Canadian fans, we hope you have a great long weekend!
Now please enjoy this comical depiction of Canadian Thanksgiving: