Hi everyone! I'm considering taking the plunge to "cut the cord" moving away from DirecTV to an OTA solution. I'm considering options, including Tablo, but I'm interested in feedback on a couple things to help me decide. I thought I would include a diagram of my existing (black) & proposed (purple) setup in case it helps.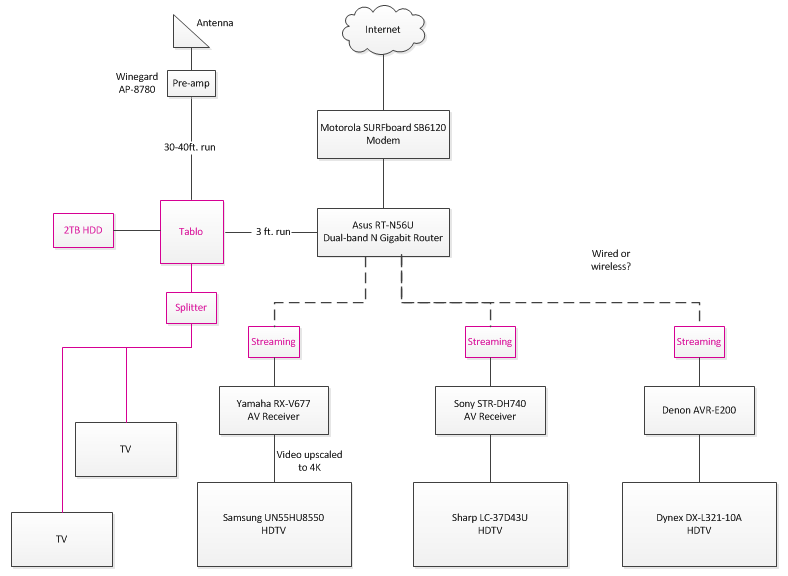 Here are the points where I'm looking for some feedback:
I'm presuming that with any Tablo I purchase I'm going to want to immediately upgrade to the latest firmware version (2.2.2?) since I presume with the recent rollout that it'll ship with an older version. Is that correct? If so, should I do the minimal connection & setup only? Do I have to wait for my unit to be randomly upgraded or can I download it?

In addition to 3 existing TVs where I would want to share recordings (I have DirecTV whole home DVR now) I also have 1 or 2 where I would just want to get the OTA signal without connection to Tablo. Given the signal splitting needed, and the distance from the attic to basement where the Tablo would be located near my router, should I be using a pre-amp (which I already have) or a distribution amp in this situation?

Streaming to existing TVs. I'm really confused on a couple aspects of this one:
a) wired vs wireless to streaming device - I'll probably go wired just to avoid potential wifi issues
b) which streaming device? I already have 2 AppleTVs and this method seems clunky as I'm understanding it. It's not clear to me if this will improve with the next gen AppleTV. It's also not clear to me whether Roku or FireTV would provide a better interface for watching live TV or recorded programs. There doesn't seem to be a consensus best device to use - there seem to be pitfalls & tradeoffs with each.

My main TV is a Samsung 4K smart HDTV, and I pass all video input to an AV receiver which converts everything from multiple sources (Bluray, DirecTV, AppleTV) to 4K if needed (instead of the TV doing it) and also allows having just 1 HDMI to the TV. With this setup I'm thinking I would set the Tablo to record at 720p to avoid some of the 1080P playback issues I've read about. Would that be the route to go on this?
Looking forward to hear your thoughts on these?