Problem: Live streaming remote underflows buffers every 7-10 seconds requiring 5+ seconds to restart.
I have had this configuration (or one slightly inferior) for several years with successful remote viewing. This problem cropped up in the last 12 months or so.
Test Configuration: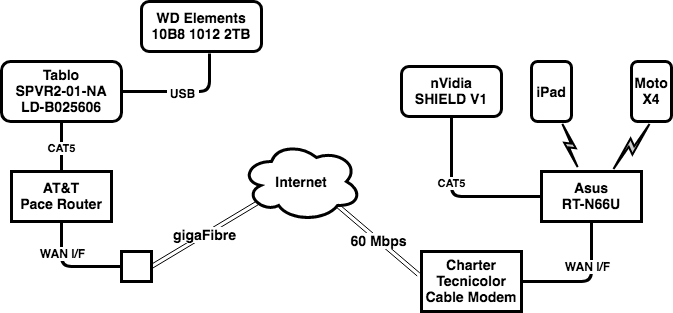 Tablo: Model No. SPVR2-01-NA; Serial No. LD-B025606; Device 2.2.26

DVR HDD: WD Elements 10B8 1012 2TB

Tablo local network is Gigabit Ethernet Cat5e Hardwired

Tablo internet service is AT&T gigabit fibre; speedtests at 970Mbps up and down

Local clients include Moto X4, iPad, Roku, nVidia SHIELD (Version 2), Nexus Player

Remote LAN is Gigabit Ethernet Cat5e Hardwired and 2.4/5 GHz WiFi

Remote internet service is Charter 60Mbps service with speedtests reliably at or above 60Mbps

nVidia SHIELD (version 1) hardwired to router with latest Tablo app

Moto X4 (Google Project Fi) with latest app; tested at 2.4 & 5 Ghz with and w/o VPN

iPad with latest app on 2.4 & 5 Ghz
Tests & Results:
Live playback on local network: initial buffer under-run; pause to re-buffer; remaining playback w/o buffer under-run
Recording playback on local network: no buffer under-run
Live playback on remote network: initial buffer under-run; pause to re-buffer; play for a few seconds; pause to re-buffer; rinse-repeat
Recording playback on remote network: no buffer under-run
Behavior is consistent across all devices at both local and remote locations
Remove HDD and re-run Live Tests: No change in behavior with Live playback local and remote
Adjust all Bitrates (Live, Recording, and Remote) from highest to lowest settings: no change in remote buffer under-run and never induced local buffer under-run
All Playback tests are run w/o background recording or multiple stream playback and always on the same live channel from test to test
Observations/Conclusions:
Because Remote playback of high bitrate content plays correctly the problem is NOT END TO END NETWORK BANDWIDTH
Because Remote playback fails with and without the Hard Drive the problem is NOT A TABLO "LIVE-PAUSE BUFFER TO HDD" ISSUE
Because this exact configuration worked well in the past it would seem this is a software issue related to the buffering at the server, the client or in the signaling between them
Questions
Has anyone else experienced similar issues?
Is there anyway to access logs or increase logging levels on the Device firmware or the apps?
What is the best way to engage Tablo Tech Support to resolve the issue?