I've discovered beta.tablotv.com (accessed via browser) has an option to enable commercial skip. Although the

doesn't appear to be persistence, the setting holds?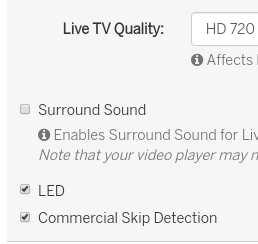 Quirk, the HTML Application shows an older version than the current one on my.tablotv.com. There is no indication weather or not commercial skip has processed on any shows (it's a beta site). With 3rd party apps like APL Tablo or tablo-tools-electron it's possible to verify which shows have had successfully been processed - ok, so 3rd party apps can already tell.
With all the pita gobbledygook you end up back with the http://tablo1.lan:18080/pvr/235255/pl/ playlist directory. Seems the ones with the add cc are the commercial skip playlist. You can stream via any media player plv3.m3u8 and plv3cc.m3u8 and notice a difference. (Those the are the two I chose). If you want to get away from the :18080/pvr, you can extract the port 80 streaming playlist from the file and still works.
The next step -
ffmpeg -loglevel warning -i "http://tablo1.lan/stream/pls.m3u8?2pzBmefxcAZleYoqNyQUZw&fmt=v3&cc" -bsf:a aac_adtstoasc -vcodec copy -acodec copy -crf 18 "test.mp4"

surprisingly gave me a video with the commercials "skipped"!
Now, now we need developers to incorporate this into 3rd party apps! I understand tablo's commercial skip comes with criticism and cost like… $20 for an entire year. There are some apps already with this ability, some better, some needing assistance. I suspect if it's already there, for developers with more of a clue than what I have - something could be incorporated.
I don't really have a bit problem tapping through commercials, it might be nice for archives… well, not for all the ones I already have :(.